I will be counting down the holidays with a fun or practical gift each day. My favorite gift #3 is the Sony Blue-ray Disc Player BDP-N460  $97.00 closeout price!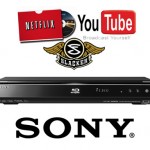 A few months ago I purchased a Blue-ray Disc Player, similar to the Sony I'm recommending,  that allows you to instantly stream thousands of movies, videos and music from the largest selection of leading content providers including Netfix, Amazon Video On Demand, YouTube, Slacker Radio and many, many more. No more late fees from my local video store, I immediately enjoyed the entire 8 seasons of 24 at my leasure. Yes it took some time but it was worth it!
Netflix is the easiest and most convenient way to watch more than 20,000 TV shows and movies instantly. The monthly fee is only $7.99 a month for unlimited TV episodes and movies streaming over the Internet to your TV. When I check the Netflix site to confirm the monthly fee I see that Netflix was chosen as one of Oprah's Favorite Things 2010. How about that!
Check out my favorite gifts #2 and #1 from the previous posts.
While shopping this holiday season, please support your locally owned small businesses.
Have a Happy and Healthy Holiday.
Debbie
Please follow and like us: