My Favorite Gift #2 is the Frigidaire  FKCH17F7HW is 17 CU. FT. Upright Convertible Freezer to Refrigerator with Internal heater and Energy Star Qualified.  $569.00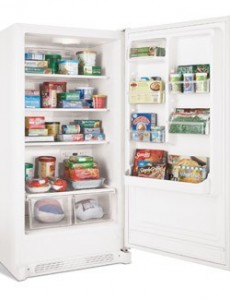 Ok, not a fun gift but a practical one. In this tough economy consumers are stashing bulk size purchases of meats, fruits and vegetables to combat rising food prices. However, the current sustainable movement and movies like Food, Inc. and King Corn are driving consumers to eat healthy and buy locally.  In Central New Jersey we are seeing a significant increase in organic purchases  especially  at local farmers markets. With more than 10,000 farms and 120 community farmer's markets in the state of NJ organic sales continue to increase despite the economic downturn. Whether it's a bounty from your own garden or produce you pick up at the local stand or purchasing a side of grass feed beef, having the extra storage gives you the opportunity to enjoy organic produce all year round.
Cook's Illustrated offers a PDF with step by step freezing  information of summer produce.
Why did I pick this freezer?   Frigidaire FKCH17F7HW is 17 CU. FT. With an Internal Heater, this freezer can be placed in the garage and if you don't need the freezer, say in the summer, you can convert it to a refrigerator. Now that is neat!  And, it's Energy Star qualified.
I'll be counting down the days till Christmas with my favorite gifts for the holidays. Tomorrow will be a fun one!
Happy and Healthy Holiday Season.
Debbie
Please follow and like us: