I'm counting down the holiday shopping days with a favorite fun or practical gift. My favorite gift #4 is the Miele S7 Upright Vacuum.  Starting at $429, yes this is a practical gift but it's the chicist of all practical gifts. Check out my previous post for Gifts #3, #2 and #1.
Miele vacuum cleaners clean the home and the air we breathe. A beautifully thoughtful gift for allergy and asthma sufferers-one that will give them cleaner indoor air for decades. Miele's exclusive Sealed SystemT technology enables the vacuums to be HEPA-certified so that lung-damaging particles go in the vacuum and stay in the vacuum. The patented SwivelNeck allows steering in all directions. It can even be laid flat on the floor.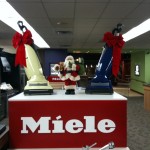 HEPA Filters, by definition, removes a least 99.97% of airborne particles. Miele's exclusive Sealed System is crafted from the very best raw materials to ensure an airtight casing that locks in dangerous lung-damaging particles such as dustmite feces and other airborne allergens. The Miele Upright Vacuum combines the power of the Active HEPA Filter and the vacuum cleaner to provide the purest indoor air quality.
Have a Happy and Healthy Holiday Season!
Debbie
Please follow and like us: