It's that time of the year where summer is approaching and Memorial Day is almost here. That means it's time for the 2013 Mrs. G TV, Appliances & Sleep Center Memorial Day Sale. Our sale starts early, beginning on May 16th and goes through May 27th. We've got amazing deals and rebates from a variety of brands, including Weber, Frigidaire, Bosch, Whirlpool, GE, and more. During our store-wide sale you will find everything you need to get ready for summer, including grills, air conditioners, kitchen and laundry appliances, and 4 piece kitchen packages. Check the Memorial Day circular to see the deals.
Here are just some of our featured deals you will find during our 2013 Memorial Day Sale:
One way we are going to get you ready for summer is with our Weber grill sale. All Weber grills will include free assembly and free delivery. One great option is the new Weber Spirit E-210 Gas Grill. This Spirit grill has a new look and is now only $399. And remember, it has free assembly and free delivery through Memorial Day.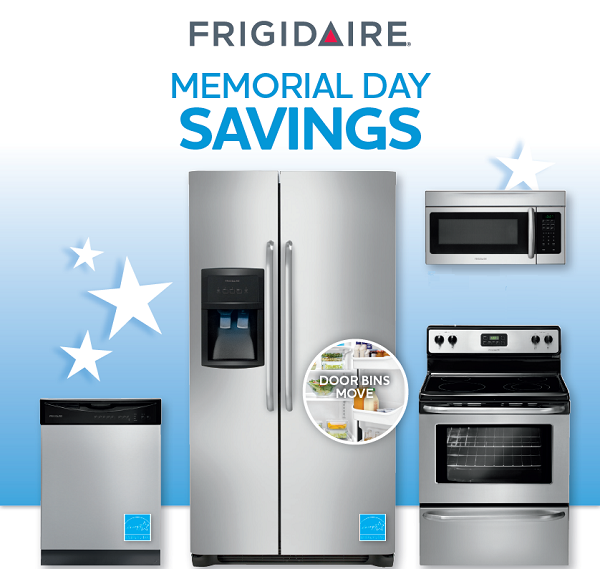 Another big part of our Memorial Day Sale is all of the amazing 4 piece kitchen packages we are offering. One unbelievable deal featured in our circular is the Frigidaire 4 piece kitchen suite for only $1999 from May 19 – May 29, 2013. The package includes a side-by-side refrigerator, FFHS2622MS, a 30" freestanding range, FFEF3043LS (Electric) or FFGF3047LS (Gas), a 24" dishwasher, FFBD2411NS, and an over-the-range microwave, FFMV164LS. This is a limited time offer only!
Check out our Kitchen Package page to see even more package deals.
If you are in the need of a new washer or dryer or both, there are many options available in our sale. One featured deal is this LG top load washer and electric dryer pair, WT1101CW and DLE1101W. The washer and dryer were both $699 each, but now they are only $629 each, so you can save $70 on each one. So if you just need a washer or dryer, or if you need the pair, this is a great buy from LG.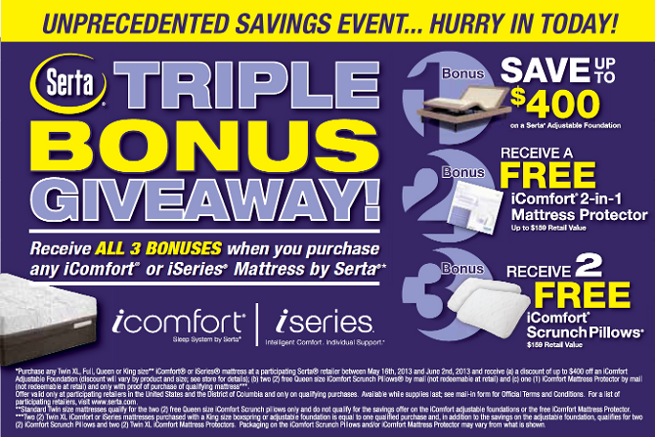 The Mrs. Gzzzz Sleep Center is also offering a special Serta Memorial Day bonus. The Triple Bonus Giveaway is going on from May 16 to June 2, 2013. Purchase any Serta iComfort or iSeries mattress and receive the following 3 bonuses:
1. Up to $400 off a Serta Adjustable Foundation
2.Receive a free iComfort mattress protector
3. Receive 2 free iComfort Scrunch Pillows.
These are just some of the deals that are part of our 2013 Memorial Day Sale. Visit our Memorial Day Sale page and view our circular to see even more great deals. And be sure to come to Mrs. G's TV, Appliances & Sleep Center to take advantage of all the savings. We look forward to helping you. Happy Memorial Day!
Please follow and like us: