My Favorite Gift #5 comes from the selection of Weber Portable Grills. The Q 200 at $179.00 for those who like gas and the Char Q at $149 for those who love charcoal.
Q 200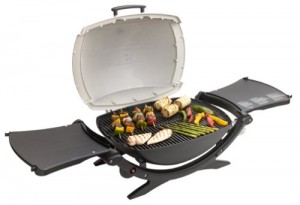 Char Q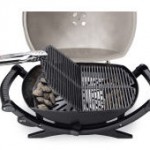 Tailgating is growing in popularity and one out of every 5 tailgaters are "Going Gourmet" according to Weber Tailgating Study. Even in this tough economic times, many fans still go the extra yard with lavish pre game spreads. Weber's Portable grills, from simple and compact to handy and full featured, are perfect for tailgating spreads big and small.  With an enjoyable tailgating experience, everyone comes away a winner. Tailgating parties provide the perfect opportunity to unleash creativity in cooking, in presenting the feast and expressing passion for the game. The Weber Q 200 or the Char Q is the perfect holiday gift for the seasoned tailgater or a tailgater in training.
Tucked inside the Weber Q 200 is everything you need to fire up some serious tastes. It boasts 280sq.in. of cooking space, porcelain-enamel cast iron cooking grates and infinite control burner valves to give you full spectrum power.
Weber Char Q Charcoal Grill includes cast iron cooking grates and specially designed top and bottm dampers allow for proper airflow and heat control so the only thing left to worry about is chowing down.
Have a Happy and Healthy Holiday Season.
Debbie
Please follow and like us: