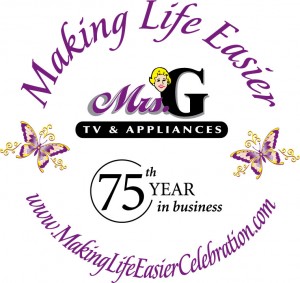 Just the other day, I pulled out an old VHS tape of Mrs. G's 50th anniversary celebration. My grandmother was glowing as she made sure she said hello to every customer in the store and thanked them all for joining the celebration. The store was packed!  I was there working the register. Where did the past 25 years go? So much has changed in 25 years, but one thing has stayed true: Mrs. G's makes sure we let our customers know we appreciate their business and referrals. As a tribute to our valued customer's we are "Making Life Easier" the theme for our 75th Anniversary Celebration.
[youtube]https://www.youtube.com/watch?v=w94dhh2gMTw[/youtube]
On Saturday, September 25th from 10am-4pm, our customers will enjoy the many helpful, informative seminars being presented, over $7,000 in door prizes, relax in the 'spa' area featuring massages and makeover tips and enjoy many fabulous cooking demonstrations. Also, every guest will receive a gift bag filled with items to "Make Life Easier". Go to www.makinglifeeasiercelebration.com to view the list of seminars such as "De-clutter Your Space", "Savor the Moment" and "Time Saving Fashion Tips".
Lucinda Ottusch, a Consumer Advocate for the Whirlpool Institute of Kitchen and Fabric Science, will focus on Laundry and Dishwashing 101, and each session will include audience participation, lively discussions, demos, and tips and tricks to "make life easier" when working with their washer/dryer and/or dishwasher. Lucinda will cover the basics and provide tips on how to save time and energy, cycle selection and more.
We are also excited to have a special guest appearance by Glenn Lyman from GCooks. Celebrity Chef to the NBA's elite, Glenn Lyman gained his notoriety as Personal Chef to LeBron James of the NBA Cleveland Cavaliers. Glenn is now the Executive Chef for Lynx Grills and will be offering tasty treats and grilling techniques.
During the celebration, you'll find dramatic discounts and below market buys on our full line of GE, Whirlpool, KitchenAid, Frigidaire, Jenn-Air, Maytag, Bosch, Sony, LG, ASKO, AGA Marvel, XO, Bertazzoni Italia, Samsung, Monogram and a whole lot more. Pop a balloon to receive an additional percentage (%) discount. One lucky customer will find 75% off in a balloon!!! (Up to $1,000 purchase or $750 off.)
For One-Day Only, Saturday, September 25th from 10am-4pm, Mrs. G TV & Appliances will be offering the very lowest prices of the year. Factory representatives will be on hand to answer your questions and you'll be able to buy refrigerators, freezers, washers, dryers, cook tops, ranges, built-in ovens, gas grills, TVs, plasmas and LCDs at the lowest possible price – GUARANTEED! In addition to low prices look at these extra specials: 12 months, no interest financing with minimum payment on all brands over $399.00. Free Local Delivery. See store for details.
Register today at www.whoscoming.com/MakingLifeEasier . Your early registration qualifies you to be entered to win a 19" 720p LCD HDTV/DVD Combo (No purchase necessary. Must visit the V.I.P. tent to win.)
I look forward to seeing you on the September 25th so I can personally say thank you for shopping at Mrs. G TV & Appliances.
Please follow and like us: