Our 75th anniversary "Making Life Easier Celebration" on September 25th was fantastic. Ok, let me take a moment and pat myself on the back while you watch the video.
[youtube]https://www.youtube.com/watch?v=XXUE1albBtQ[/youtube]
Mrs. G's had over 325 people sign up for the event and over 430 gift bags were given out. How about that!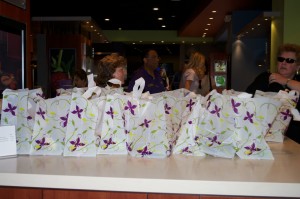 What was the secret to the event's success during this dull economic environment? Offer something relevant to women! Women make over 80% of the purchasing decisions today and I wanted to reach out to them no matter what their budget. (Check out www.she-conomy.com for more information about marketing to women.) However, I didn't totally leave out men. There were things going on throughout the day that men would be interested in attending as well.
I started working on this event in May with Terri Petry, publisher of Mercer County Woman Newspaper. She came up with a "Making Life Easier" theme to include free informative seminars, cooking demos, laundry tips, hair and makeup tips, music, refreshments and the biggest sale of the year. Hilary Morris of H. Morris Solutions did an outstanding job managing our social marketing/advertising. Everyone knew about our event! We were on our way to a great event.
Featured were 5 fabulous seminars focusing on making life easier. The most popular was "De-Clutter your Space, De-Clutter Your Life" by Ellen Tozzi, Professional Organizer with Natural Order. We had 65 chairs set up in a room and had over 100 people show up to listen in on this spectacular presentation.  A few disappointed customers could not find a spot. Luckily we were able to convince Ellen to come back on October 25th at 4:30pm to present her seminar again.  If you missed it the first time, I hope you will be able to join us on the 25th.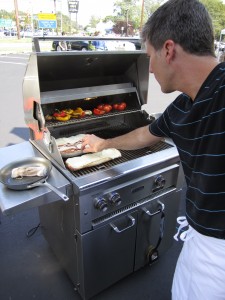 We had a wonderful selection of food demos including chef to the stars, Glenn Lyman of GCooks. He grilled all day long for our customers on the outstanding Lynx grill. My favorite was the panini sandwich. I highly recommend visiting his website and check out his custom blend seasoning packages. The crowd loved it! Also, Griggstown Farm offered a turkey brining demo and  House of Cupcakes gave a baking demo. Who doesn't love cupcakes?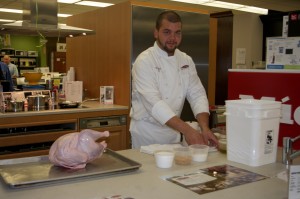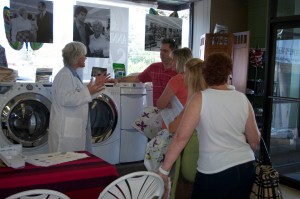 Whirlpool Institute of Fabric and Kitchen Science representative Lucinda Ottusch came all the way from Michigan to help our customers with their laundry questions and help those who needed a refresher course on Laundry 101 and Dishwashing 101. If you are not familiar with their site I highly recommend it. Check out  their stain removal guide here!
Because this was a monumental celebration, I had a lot of support from my manufacturers which allowed me to aggressively market the event and offer wonderful prizes. Over $7,000 in prizes were given away including a $4,000 Bosch 4 piece kitchen package.  Here are a few winners.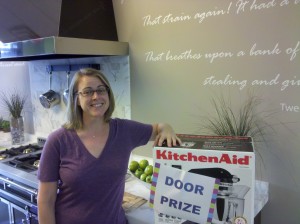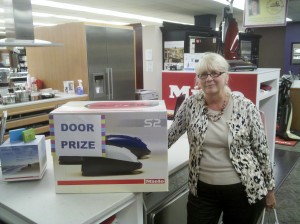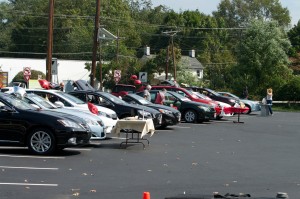 I love partnering with other local businesses, so I invited local auto dealers to show off their cars and I had Great Looks 4 Less salon offering blow-dries and styling tips.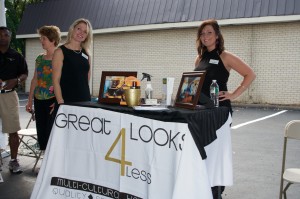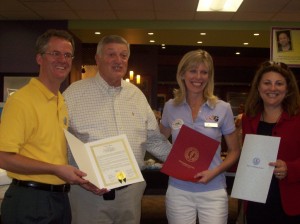 A special surprise was a wonderful presentation of  2 proclamations and a Certificate of Recognition from the Mercer County Freeholders, Lawrence Township and Mercer County Clerk to Mrs. G TV & Appliances and me, Debbie Schaeffer,  on the celebration of 75 years of business success in Mercer County and Lawrence Township. September 25, 2010 was proclaimed Mrs. G TV & Appliances Day. How about that! My grandmother would have been so proud of me. She loved her local politicians and a day never went by without her wearing the American flag.
What a successful celebration we had! Thank you to all of you who came out to celebrate our 75 years of business. I'm looking forward to our 100th celebration already.  
Please follow and like us: