MRS. G TV & APPLIANCES TO HOST PANEL DISCUSSION "BRANDING 2.0: THE STRATEGIC USE OF SOCIAL MEDIA TO PROMOTE YOUR BUSINESS" ON SEPT. 22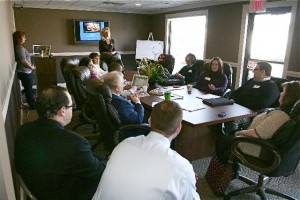 Mark your calendars! We are hosting our first ever social media panel discussion. Come out and meet savvy local social media tweeps who are experts on how to build a brand. Ask the questions you always wanted to ask but were too afraid. Our panel of fearless experts are ready to help you and answer any questions you have regarding branding, social media and more.
Are you tasked with using social media to promote your clients, business, or organization, but not sure how to start? Do you want to reach out to bloggers, but not sure how to find and work with them? Get your questions answered at a special panel discussion called "Branding 2.0" at Mrs. G TV & Appliances in Lawrenceville. Panelists, including CEO Debbie Schaeffer's "VIB" bloggers, Janie Hermann, Program Coordinator at the Princeton Public Library, Madhavi Saifee, Director of Online Services at Packet Publications, and Katie DeVito, blogger and founder of NJUnemployed.com, will discuss the use of social media in public relations and marketing campaigns and how to utilize the various social networking platforms like Twitter and Facebook. Topics include: how to work with bloggers, the influence of social media in traditional media, Twitter etiquette, creative uses, best practices, and more. Light refreshments will be served. This is an event you don't want to miss!
WHEN:           Wednesday, September 22, 2010 from 11:30 am to 12:30pm.
WHERE:        Mrs. G TV & Appliances
2960 US Highway 1
Lawrenceville, NJ 08648
For more information, email hilary@hm-pr.com or call 609-462-3228.
RSVP by September 15th.
Please follow and like us: