It's not a diamond ring, but it *is* the Bentley of Vacuum Cleaners.
[youtube lRJ8BP95_3U]
Diamonds may be a girls best friend, but a Miele vacuum is every bit as chic, and a very practical holiday gift.  Miele vacuums are in stock now at Mrs. G's!  You can't get more convenient than that for a holiday gift – or better yet – for using before your holiday parties!
Miele vacuum cleaners clean the home and the air we breathe. A beautifully thoughtful gift for allergy and asthma sufferers – one that will give them cleaner indoor air for decades. Miele's exclusive Sealed SystemT technology enables the vacuums to be HEPA-certified so that lung-damaging particles go in the vacuum, and stay in the vacuum. With over 15 models (full size upright, canisters and sticks) in stunning colors to choose from, Miele vacuums start at $319.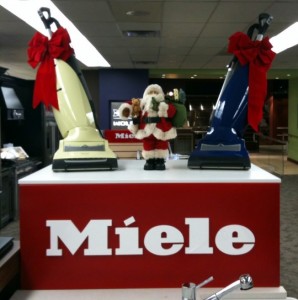 HEPA filters, by definition, removes at least 99.97% of airborne particles. Vacuum cleaners simply labeled HEPA have a HEPA filter, but not all air necessarily passes through it. Finally, vacuum cleaner filters marketed as "HEPA-like" will typically use a filter of a similar construction to HEPA, but without the filtering efficiency. Because of the extra density of a HEPA filter, HEPA vacuum cleaners require more powerful motors to provide adequate cleaning power.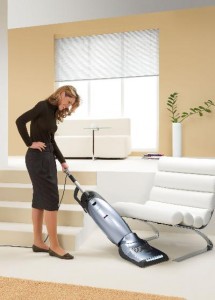 Miele's exclusive Sealed System is crafted from the very best raw materials to ensure an airtight casing that locks in dangerous lung-damaging particles such as dust mite feces and other airborne allergens. It combines the powers of the Active HEPA Filter and the vacuum cleaner to provide the purest indoor air quality. Please exercise caution when evaluating other vacuum filtration systems, as there are many gimmicks that do not work as effectively or scientifically.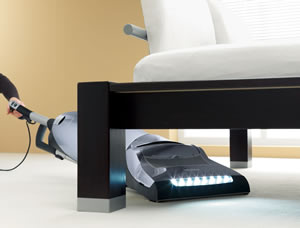 My favorite is the S7 upright with the innovative, patented SwivelNeck which allows steering in all directions. It can even be laid flat on the floor.
Please follow and like us: