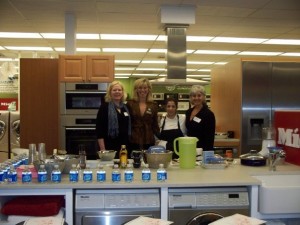 Mrs. G hosted a holiday cooking demo today for special guests of the Susan G Komen for the Cure Central & South Jersey Affiliate. A perfect time for us to present a donation generated from a portion of our KitchenAid sales during the month of October. Chef Mary Beth Madrill from the Princeton Marriott was fantastic and we would love to have her back for more cooking classes. My favorite was the Warm White Bean and Roasted Garlic Dip.
Warm White Bean & Roasted Garlic Dip
Prep Time: 10 minutes
Serves: 3 Cups – 6 to 8 Servings
Ingredients:
3 cups cooked white beans, rinsed and well drained
1 head of roasted garlic, cloves removed from peels
¼ extra virgin olive oil
1 tablespoon minced mixed fresh herbs, such as thyme, marjoram, oregano, and rosemary
1 ¼ teaspoon kosher salt
½ teaspoon freshly ground black pepper
⅛ teaspoon ground cayenne pepper
½ teaspoon red wine vinegar
3 tablespoons grated or shaved Parmesan, for garnishing
Sea salt for garnishing  
Directions:
In the bowl of a food processor, combine the beans, the roasted garlic, olive oil, 2 teaspoons of the herbs, salt, pepper, cayenne, and red wine vinegar and process until smooth, stopping to scrape down the sides of the bowl as necessary. (If the dip seems too thick, thin with a bit of chick broth or water.) Transfer to a saucepan and heat gently over low heat until warm. (Dip may also be served at room temperature if desired.) Transfer to a shallow serving bowl or wide rimmed plate, smooth the top with the back of a spoon. Garnish with Parmesan, and salt and pepper. Serve with Crostini.
Please follow and like us: