Mrs. G is delighted to welcome the sleek AGA Mercury induction range to our showroom. In addition to the matte black color we have on display, it is also available in glossy black, white, ivory, stainless steel, and scarlet. Featuring 5 induction burners, 3 independent ovens, and 7 cooking modes, this range offers exquisite performance and the kind of flexibility that can simplify even the most complicated meals.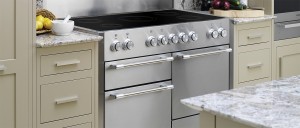 On the ceramic glass induction cooktop, all 5 burners can be used simultaneously and offer the same kind of precision and efficient cooking induction is known for. The cooktop features power boosts, a residual heat indicator, 9 power settings that respond instantly, low temperature and simmer settings, overheat detection, and of course a child safety lock. The pan-recognition system can sense when a burner is not in use, and will automatically shut off power to that burner to conserve energy.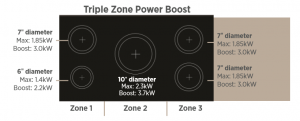 The 3 ovens offer a total of 6 cubic feet of oven space, and both of the larger ovens can comfortably prepare a 25 lb turkey. The black enamel interior of each oven is non-stick and easy to clean, and the two larger ovens have 5 rack positions. The smallest oven has a dual-element broiler and has an extendable gliding tray with two height options. The largest oven on the left features 7 cooking modes: defrost, convection,  convection bake, convection broil, conventional, browning, and base heat. The right oven is a true European convection oven, utilizing a fan and multiple heating elements to circulate the heat and offer even temperature and cooking throughout.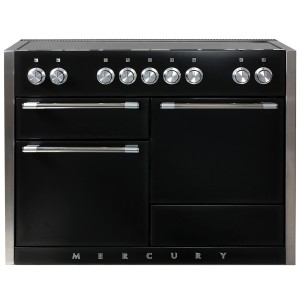 Come in today to see this beautiful piece on our showroom floor, and talk to any of our appliance experts about whether this is the right range for your home. Uncertain or unfamiliar with induction cooking? Come see a cooking demonstration in our Community Kitchen, and let our in-house chef walk you through this fascinating and efficient new way to cook.
Please follow and like us: