Mrs. G's has recently welcomed Traeger Grills to our showroom, and we're excited to provide our customers with such an innovative and fun way to cook. Like anyone with something new, we've been eager to test it out ourselves, and we have made everything from steak to bacon to pizza on our Traeger Pro Series 34. Whenever we have customers watching our cooking demos, perusing our selection of grills, or just browsing the store, we find a lot of people have questions about our wood pellet grills and the technology behind them. We've decided to answer some of the most frequent inquiries below.
Don't see your question here? Feel free to give us a call or stop by the store to talk to one of our appliance experts–and have a tasty snack while you're here!
What is a wood pellet grill?
Pellet grills are a relatively new innovation in grilling, gaining popularity in the past 20-30 years. Fully electric, they eliminate the use of noxious propane or messy charcoal. Instead, they're fueled by hardwood sawdust pressed into pill-sized pellets. The pellets can come in many different types of wood, from apple to oak to hickory, and each wood type brings a different flavor to the food. They are organic, with no additives or artificial flavorings, and leave very little ash.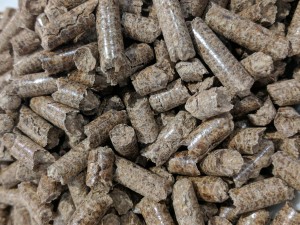 How do pellet grills work?
Pellet grills utilize digital technology partnered with a few moving parts. They resemble a classic offset barrel smoker, with a device called a hopper mounted to the side of the drum (rather than a firebox). This hopper has a digital control board where grillers can set the temperature, and the pellets are fed at a controlled rate into an enclosed flame in the barrel of the grill. The device that moves the pellets to the flame, called the auger, is regulated by the controller to maintain the set temperature. Pellet grills offer an impressive variety of different cooking styles: smoke, grill, roast, bake and braise. The grill runs on electricity and can be powered with a standard household current, and after the initial heat-up they utilize remarkably little energy.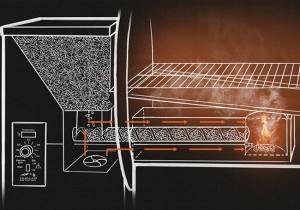 What are the benefits of pellet grills over gas or charcoal?
Gas grills grew in popularity due to their convenience, and the speed with which they heat. Pellet grills offer the same speed–preheating in 10 to 15 minutes–with far more versatility, convenience, and taste. The digital controller gives grillers the freedom to set the temperature, and leave the food to cook at a steady rate as the air circulates through the drum, much like a convection oven. This also guarantees a more even cooking surface, so you can load the cook chamber with food and not worry about uneven cooking.
Pellet grills are designed to eliminate flare-ups, meaning you can cook grease-generating foods like bacon without fear of a grease fire. They also provide a wide array of cooking options, allowing you to grill classic cook-out foods like burgers, hot dogs, and chicken, smoke authentic BBQ like steaks, ribs, and brisket, slow-roast turkey or prime rib, and even bake pizza, bread, or pies. And of course, there's the incomparable taste of food cooked over a genuine wood fire. Rather than the fumes and chemicals from burning gas and charcoal, you're infusing your food with the natural and flavorful aroma of the wood of your choice.
Can I use any kind of wood pellets to heat the grill?
It is essential to only use high-quality, food-grade wood pellets that are produced 100% from hardwood. Never use "heating pellets," as they may contain impurities like leaves or bark, or be derived from softwoods. These can cause many issues, from hard-to-clean build-up in the grill to tainting the food with chemicals that aren't healthy to ingest.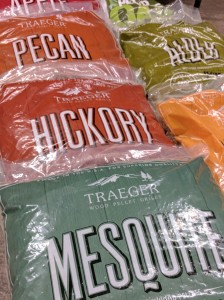 How long does a bag of pellets last?
One 20 lb bag of pellets generally lasts 20-26 hours of cook time, depending on weather conditions. That averages out to 1-1.5 hours for every pound of pellets, when smoking at 250 degrees in ideal weather. Chilling factors, such as cold weather or high winds, can increase pellet consumption. Some brands have insulating capes or blankets to aid in retaining heat when the weather isn't favorable.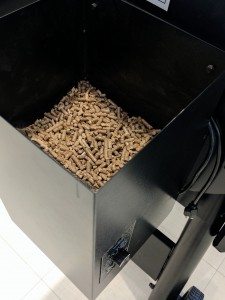 How do you clean a pellet grill, and how often?
Cleaning the cooking surface of a pellet grill is much like cleaning its gas or charcoal counterparts–you can give it a good scrub, or remove the grill to soak or blast with water. Be sure any cleaners used are organic and safe for use on an eating surface. Most models have an angled drip plate that leads all run-off into a bucket or container. Many brands have disposable liners for drip plates and buckets to minimize clean-up. The only cleaning required inside the grill is an occasional vacuuming of the ash collection in the bottom of the drum, using any standard hose attachment on a household vacuum. Because the pellets burn so cleanly, this can be done as needed depending on how frequently you use the grill, and how long you let it burn.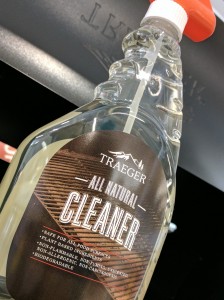 What's the difference between a pellet grill and electric smoker?
Even though they both use electricity and are capable of smoking food, they are very different. Electric smokers heat food, and use wood chunks or chips to add smoke for flavor. Pellet grills derive their heat entirely from the wood pellets, not just for a smoky flavor. Also, electric smokers are generally very limited in their temperature range, so they're ideal for smoking and slow-roasting but aren't capable of grilling, searing, or other cooking styles that require a higher temperature.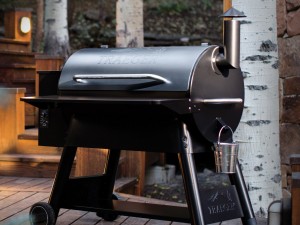 Sold? Skeptical? Starving? Come to our showroom to see the magic of the wood pellet grill in action, with our
Traeger Pro Series 34
. Check our
events calendar
to make sure you don't miss the next time Chef Vance plans to cook something up. If he isn't using one of our pellet grills, feel free to talk to one of our appliance experts about taking home our
Traeger Tailgater Pellet Grill
for free for a weekend!
Please follow and like us: