The beginning of a new year often times means price increases in appliances. 2015 is no exception, and several of the brands we carry will be having a price increase starting March 1, 2015 in order to keep up with rising costs. Sub-Zero & Wolf, Jenn-Air, Viking, and Marvel will all be seeing a price increase on March 1st.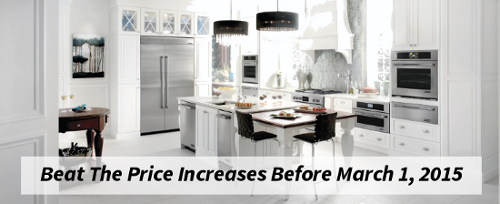 That means now is the perfect time to buy those appliances you have been holding off on and save some money before the price increases. All orders should be placed by February 27th 2015 to beat the price increase. This is a great opportunity to save some extra money by purchasing now instead of waiting.  So be sure to check out our large selection of Sub-Zero & Wolf, Jenn-Air, Viking, and Marvel appliances and plan your next purchase before the price increase. You can also take advantage of some great rebates going on now from these brands for even more savings.
Give us a call or visit us to learn more. You can also visit our team page to contact a Mrs. G Sales Professional directly who can help you find the right appliances for your needs. We look forward to helping you save on your new appliances.
Please follow and like us: