One of the most frequently asked questions about Mrs. G's is, " How do you differentiate yourself from all the big box and regional competing chains." With a smile, I say "they don't have me " but really it is way more than that. I talk about Mrs. G's outstanding sales associates, great customer service before during and after the sale, and I add one more reason, and that is we love to connect with our community and industry partners.  Here is one example of how we do it!
After launching our Serta Sleep Center in January, I coincidentally bumped into Jayne O'Conner head of Marketing for Capital Health Medical Center in Hopewell, NJ at a chamber event. I told her I would love to have a Capital Health expert lecture on how to get a good night sleep as a featured event at Mrs. G's. This would be a great way to launch our new Sleep Center. She loved the idea. After a few hours planning we opened the event to 50 attendees with a lecture by Dr. Frank, DO, FCCP, FACOI, DABSM, Medical Director, and a light dinner created by Mrs. G's executive Chef Mary Beth offering nibbles that help you relax and sleep. The event was totally booked within a few weeks after it was advertised. Both our Serta manufacturer's rep John Harrington, and our Leggett & Platt manufacturer's rep Steve Bernstein were also available to answer questions about mattresses and offered giveaways for a few lucky attendees – a pleasant surprise.

Dr. Frank , an expert on sleep for over 20 years, gave an amazing presentation on the Capital Health Center for Sleep Medicine, why it is so important to have a good night sleep and how you can get a better night sleep. Here are a few of the takeaways from the Doctor's, "TIPS for a GOOD NIGHT'S SLEEP".
I thought this was very interesting: Here is a slide on how much sleep you need by age group.
Drivers who are less than 25 yrs old account for 55% of all fall-asleep accidents.
Lack of sleep heightens alcohol's effect.
Keep the bedroom dark, quiet, cool (68 degrees) and make sure you have the right mattress to accommodate all your pressure points to allow for a good night sleep.
Knowledge is power. Empower yourself to make healthy choices. Good Sleep for Good Health.
She ended with a quote from E. Joseph Cossman "The best bridge between despair and hope is a good night sleep."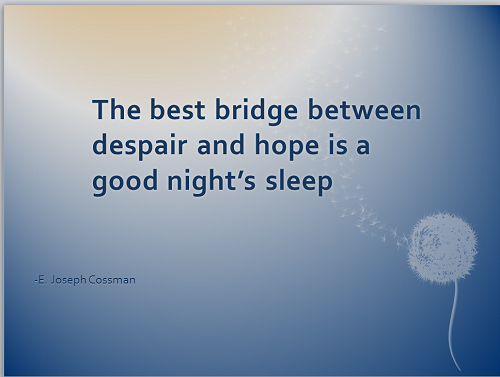 Dr. Frank was very pleased with the turnout and Mrs. G's was very pleased as well. This was an excellent opportunity to introduce our Sleep Center to many who have not been to Mrs. G's before or many who have not been in in quite a while. Dr. Frank is looking forward to offer another sleep lecture at Mrs. G's in the fall of 2013 so stay tuned to our calendar of events if you are interested in attending.
And that's how we do it!
Please follow and like us: