Celebrate Earth Month at Mrs. G TV, Appliances & Sleep Center's 3nd Annual Farm 2 Grill event on Saturday, April 27th 2013 from 1 pm – 4 pm. Stop by the store for an outdoor party you won't want to miss. We've had so much fun at this event the past two years and we can't wait to do it again this year. There will be local vendors, plenty of fresh food, and live entertainment.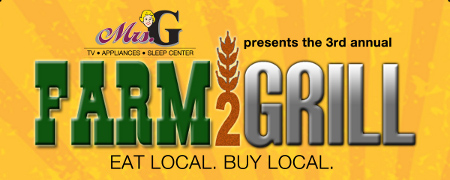 During the event we will be showing off beautiful, fresh food from local vendors. You'll have the opportunity to shop locally grown and produced goods and to sample grilled food by Mrs. G's Executive Chef Mary Beth Madill. There will be several grilling demonstrations throughout the day. Our own store manager and grill expert, Chris Gray will also be grilling pizzas using the Kettle Pizza Kit and Weber charcoal grill. You can also see our large selection of grills including Weber, Lynx, and Viking grills, as well as our extensive Liebherr display full of excellent refrigeration products, perfect for storing locally grown foods.
There will also be plenty of live entertainment at this year's Farm 2 Grill event. Come enjoy live music by Princeton bands Pi Fight and Morph the Cat as well as a live broadcast by 107.7 The Bronc.
In addition, Judith Robinson, manager of the Princeton Farmers' Market, will be giving a free canning & freezing workshop at 2pm.
Vendors include:
Fulper Family Farm
Beechtree Farm
Cherry Grove Farm
Jams by Kim
Frank's Pickles
Herb 'N' Zest
Terhune Orchards
Savory Spice Shop
Muirhead Food
and more!
The entire event is free! So mark your calendar for April 27th from 1 pm to 4 pm and come to Mrs. G's for an afternoon full of fun and to enjoy and support locally grown food. The event takes place at the store, located at 2960 Route 1 North in Lawrenceville, so just stop by to join the party! Email info@mrsgs.com or call 609-882-1444 for more info.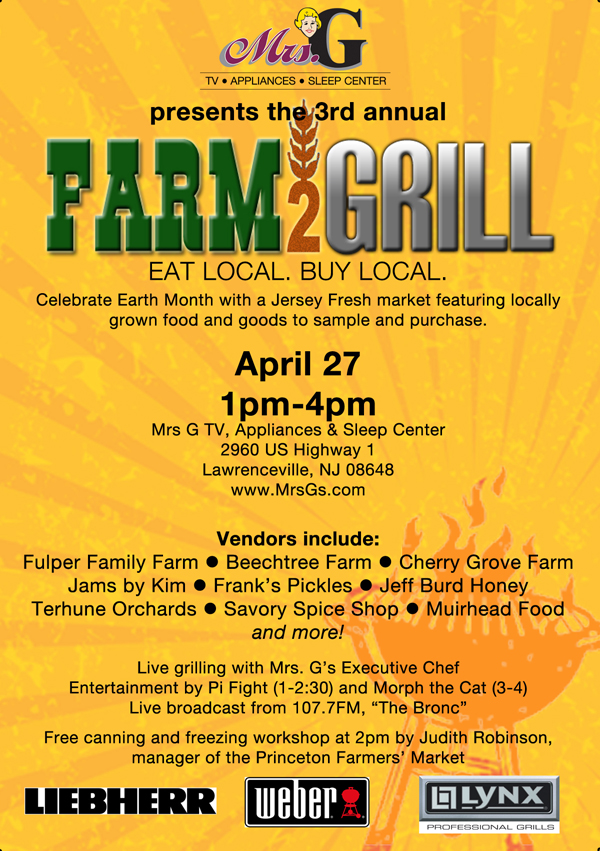 Please follow and like us: