It all started with Twitter during the winter of 2009. It seemed so easy. I only had to come up with 140 characters, and even then I did not know how to link to a blog or article. I was connecting to so many people and loved the attention. I'll never forget my first local Tweet-Up at the Salt Creek Grill, Princeton NJ where I met the soon to be very famous social media Google+ powerhouse Lynette Young. During the early days of Twitter, local followers would reach out to one another and that is how I met Hilary Morris a well-known NJ blogger, and now a highly respected PR entrepreneur who now manages Mrs. G's Marketing. Fast forward 4 years to the present and I have been able to bob and weave my way through social media, strengthening my personal & business brand as well as meeting the most amazing people. I now have a very long list of friends who share the same enthusiasm that I have for social media marketing.  
As 2013 is ready to roll in I thought I would regroup and lay out my 2013 Social Media Business Plan. It's a plan that is full but a plan I can manage.
1.  Linkedin: I love Linkedin, and I know I haven't spent enough time on it as I should. In the past I would post an update from time to time and joined a lot of groups. However, I very rarely responded to a group discussion. My goal is to pick 3 groups to engage with and then potentially start my own. Here are my top 3: The Retail Observer, NKBA and HABIG. I also need to keep up to date with recommendations and endorsements.
2.  Foursquare: Facebook wins the location war.  I'm dropping foursquare for personal use. Who really cares where I am. I spend 93% of my time at Mrs. G's anyway. Most of the people who are my friends on foursquare are on Facebook. On the customer side: Foursquare is not where I want to put my time. We have incorporated it into some of our past events but had no engagement.  Most use Twitter and Facebook to talk about Mrs. G's and that is where I'll focus my energy. However, Foursquare now has a rating feature (like Yelp which I use) so we'll see if that picks up.
3.    Instagram: Again, another time waster for me. I didn't need the latest "Terms of Service" issues with Instagram to bail out. I didn't use it that much for personal pictures anyway. This is a prime example of when you use a popular social network just to use it. If it works for you and your business then great! It just didn't work for me.
4.    Pinterest: Who loves Pinterest? I DO! I love how I can organize beautiful pictures of integrated refrigerators, custom rangehoods, and even my showroom displays. I get a kick out of people repinning my pins.  My favorite Board: Mrs. G's is a Jersey Girl! Followers of Mrs. G's boards have been growing very fast. I love the attention! Ranked #4 referral to Mrs. G's web site.

5.    Houzz: Currently ranked #2 referral site to Mrs. G's website. I only wish I had more time to take pictures of my client's kitchen projects. That's the plan for 2013: more pictures for Houzz.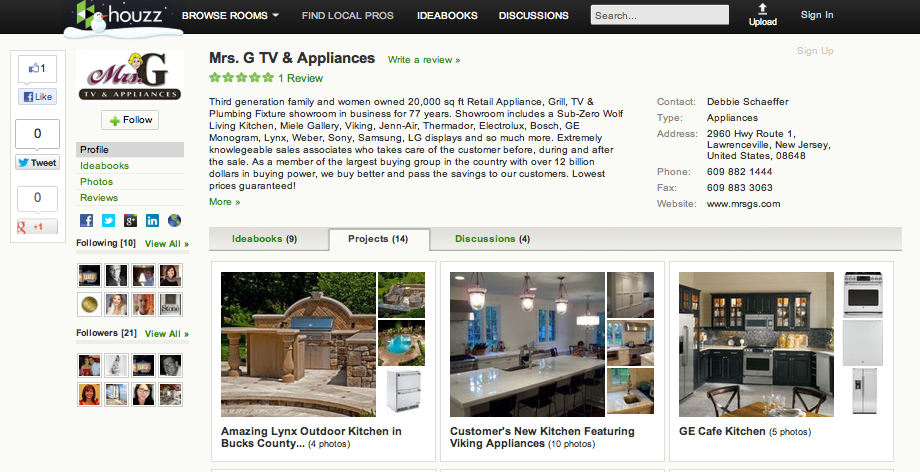 6.    Blog: Content, Content, Content! Yes I get it! My blog does drive a lot of traffic to my site, but I'm a math wizard not a writer. Currently ranked #1 referral to Mrs. G's website. My most popular blog – 30″ Double Oven Ranges: Dual Oven, Twice the Entertaining.  When I think of a great post, I add it to a future list of posts so I don't forget. I write many blogs, but when I am time deprived I write out an outline for Kevin, my social media assistant, and he finishes it. This blog is all me!
7.    YouTube:  JUST DO IT! I get so nervous in front of a camera, but I can't let a good idea go to waste (the video below was put together in just a few days!). My 2013 plan is to make more 2-3 minute videos on products, how-to's, cooking, and even my feelings about supporting your local independent businesses. I would also like to get my sales staff in front of the camera too. My goal is at least one a week.
8.    Facebook: Oh how I wish Mrs. G's could hit 1,000 followers in 2013. At the time of writing this, Mrs. G's is just about to hit 600. My growth has been a blend of organic and Facebook ads. I haven't taken the plunge yet to give away a kitchen package or an appliance to get likes, but I'm open to further discussions. Hilary Morris makes sure Mrs. G's posts are engaging and the graphic banners are catchy, and she is always making sure I keep my Facebook profile more personal than business. Both Facebook posts are connected to Twitter. I'll continue what I'm doing. So far so good!
9.    Google+:  I do feel out of place on my personal Google+. I wish to be a rock star like Lynette Young. I'll keep trying.
10.  Twitter:  I find amazing content on twitter. I love to follow my manufacturers, social media gurus like Glenn Gabe, great designers like Jamie Gold and my friendly and not so friendly competitors (I'll never tell!).  After 4 years, I have 2,000 followers. I know I could have a lot more, but in the beginning I just concentrated on NJ and PA followers. I'm all about local.
11.  Email Marketing: I still pinch myself that we have over 4,000 email addresses, thanks to the Mrs. G's/Trenton Thunder promotions that collected email addresses during their baseball season. We send out a monthly blast of deals and tips. We average an outstanding open rate of 22% and only get a few opt outs. I know who you are… I use Rocketseed's RocketMailer email marketing and newsletter tool. Love it! Laszlo Ujj, account manager from Rocketseed offers outstanding customer service and he's LOCAL!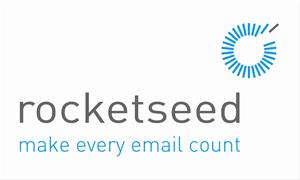 12.  Website: Maintaining an e-commerce website in my industry is a full time job. You need to manage new products, discontinued products, price increases, price decreases, instant rebates, mail-in rebates, MAP pricing, monthly circulars, etc. Mrs. G's E-Commerce and Social Media Assistant Manager, Kevin, takes care of all that and does a terrific job.
13.  SEO/SEM: I've taught myself a lot about social media and digital marketing, but this is something I needed an expert to handle. I hired someone I consider the best in this business: Glenn Gabe from GSQi. He is amazing and LOCAL!  FYI: He is offering an SEO bootcamp in Princeton, NJ on Jan 17th, 2013. If you want to be "in the know" on SEO, don't miss this training course. Register: https://seobootcampprinceton.eventbrite.com
WOW! It sure looks like a lot. I do have a great assistant Kevin who works full time with me, but he spends most of his time working on our website keeping it up to date. That is a full time job! Hilary Morris, she's LOCAL, also keeps a close watch so I don't make a bad move. I do like to keep it personal so I try to do as much as I can myself. Now that my girls are in college I find myself late at night looking for something to do (okay, I know I should be sleeping). I can always fill that time with pinning on Pinterest or writing a blog. Mrs. G business sales are up for 2012 thanks to a blend of my efforts on a social media, plus traditional marketing and my in-store events.  I guess you could say that what my non-social media business friends call a "waste of time" is working just fine!
Did you see a pattern with all my social media consultants? They are all LOCAL! It is so important to support your local independent businesses.
To all my social media friends –old, new and future ones- I wish you a Very Happy and Prosperous 2013!
Please follow and like us: