The 2012 Holiday season has arrived and it's time to start your holiday shopping if you haven't done so yet. Luckily, Mrs. G's has everything you need to give the best gifts this holiday. 'Tis the season for great appliance deals. Mrs. G's has a collection of amazing appliances and electronics that will make perfect gifts, and you are sure to find something. And of course, you'll get the lowest prices. This Mrs. G's Holiday Gift Guide will help you find the perfect gifts for those on your list.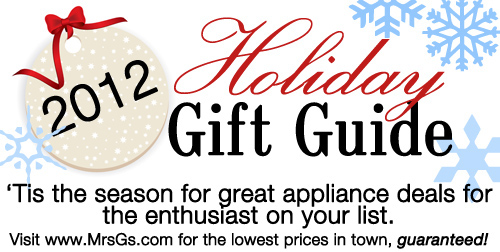 Miele CM 5000 Coffee System – $1699
This whole bean coffee machine is the perfect gift for the coffee/cappuccino lover. Make the best cup of coffee with the press of a button. Try it out before you buy at Mrs. G's. We also offer roasted coffee beans from locally owned Small World Coffee Princeton, NJ.
Miele CM5100 Coffee System – $1999
The new whole bean coffee machine from Miele includes upgraded features like the cup warmer, stainless steel accents, and an electronic steam valve for hands-free milk frothing at the press of a button.
KettlePizza Deluxe 22.5 – $199
You can now easily cook pizza on your grill with this pizza oven conversion kit for 22.5 inch charcoal kettle grills like the Weber One Touch Gold or Silver.
Weber Q® 220 Gas Grill – $229
This is the perfect gift for the grill enthusiast or tailgater on your list. It can hold ten king-sized strip steaks with this spacious 280 sq. in. of grilling space.
Weber Q® 140 Electric Grill – $229
This is another grill that makes a great gift, for those who don't want to use a propane tank or charcoal briquettes. This electric outdoor grill is suited nicely for the city and offers 189 sq. in. of cooking space. Just plug it in and grill it up.
LG 32" LED TV 32LS3450 – $287
This 32" LED TV with excellent picture quality is available at an amazing price. Limited quantities. See store.
Monster Inspiration Headphones – On sale for $299.99
Do you have a music lover you are shopping for? Check out these new Monster headphones now available at Mrs. G's. They feature high end audio performance, active noise cancellation, and are super comfortable. The headphones also have interchangeable headbands to fit your style. Test them out at the store.
Monster Diamond Tears Headphones – On sale for $299
Mrs. G's has another amazing set of headphones from Monster that are "edgy like diamonds, and smooth like tears." Amazing quality and a unique look. Test them out at the store.
The Monster Appliance PowerCenter MPAP200 – $39.95
This is a practical and inexpensive gift that gives you advanced protection and peace of mind. Protect your refrigerator, washer, dryer, and other appliances from dangerous power surges, spikes, and dips with this ultra-compact two outlet PowerCenter.
Danby 35 Bottle Wine Cooler DWC350BLPA – $199
This Danby wine cooler makes a great gift for any wine enthusiast. It's a convenient way to cool and store your wine, and fits up to 35 bottles. It also has an interior display, ideal for showing off your collection.
Miele S 7260 Cat & Dog Vacuum – On sale for $649
The perfect and practical gift for households with furry friends, this upright vacuum has the power needed to lift and remove pet hair, and a sealed system to prevent it from circulating back into the air. It comes with a handheld turbo brush for cleaning stairs and upholstery and an active charcoal filter to absorb odors.
Mrs. G's/Trenton Thunder 6 Pack Mini Plan – $66 per plan
The final item on our list is a can't miss gift for any baseball fan. Purchase this 6 game plan for the 2013 Trenton Thunder season and you receive great seats and free food for these 6 selected games. Since this is the Mrs. G's 6 pack mini plan, Mrs. G's will also be at each game with amazing appliance giveaways that you can win! See the Trenton Thunder Site for full details and to purchase.
With the Mrs. G's Holiday Gift Guide you are sure to find the perfect gifts for your friends and loved ones. Thanks for supporting local, independent business this holiday season. Have fun shopping and Happy Holidays!
Please follow and like us: