Stop! Do not use the self cleaning mode on your oven right before Thanksgiving….even if your oven is new or 15 years old. When you put the self cleaning program on it raises the oven temperature to as high as 900-1100 F degrees. This puts undo stress on your oven and it could fail. Many oven repair calls are due to the self cleaning mode. The last thing you need is to stay at home all day waiting for a service technician and that's if you can even get on a repair service schedule right before Thanksgiving.
However, I do suggest self cleaning a day or two after the Big Day. If you are planning a Holiday Christmas or Hanukkah dinner you need plenty of time for repair if the unexpected happens. Be prepared for Murphy's Law.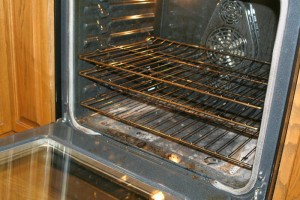 Remember to remove your oven racks before self cleaning (unless you own a GE Monogram or GE Cafe that have the Self Cleaning Racks), wipe out all the loose debris and if you have birds, take them out of the house before you start cleaning. The fumes from the oven can hurt the birds delicate respiratory system.
The Mrs. G Team and I wish everyone a Healthy, Happy and Safe Thanksgiving.
Please follow and like us: