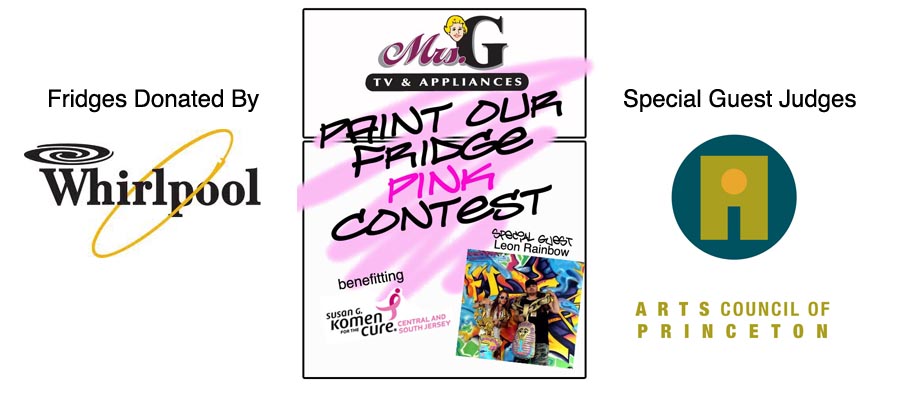 Mrs. G TV & Appliances is calling on all young artists in grades 6 through 12 to show their talent and support of Breast Cancer Awareness in the 2nd annual "Paint Our Fridge Pink" contest. Last year we had an overwhelming response to our inaugural event, receiving over 70,000 votes for the best fridge! It goes to show how supportive our local community is of children and of the cause of Susan G. Komen.
The contest will run the same way this year. From the submitted designs, we will invite the top 3 students to our showroom to paint their designs on retired refrigerators. And once again, we are so honored to have Trenton graffiti artist Leon Rainbow painting alongside the kids. Leon is the Jersey Fresh Jam artist who has been featured on CNN and in the New York Times and Princeton Magazine. This year he will be joined by two other local artists: Kasso from Trenton and Demer from NYC. All three artists will paint on brand new working fridges from co-sponsor Whirlpool. A sample of work by Demer & Kasso is show below.
Once the fridges have been painted, we will post the designs online for voting. Last year we received over 89,000 votes! The Grand Prize winner will receive $150, and Mrs. G TV & Appliances will donate $1 for every voter entry up to $500, to Susan G. Komen of Central/South Jersey.
To participate, please download the official rules (PDF) and entry form template (PDF or JPG)  and come up with your design concept, keeping in mind that you will have to paint it on a full-size fridge if you are one of the top 3 chosen. All students under the age of 18 must have signed parent/guardian permission to participate in the contest. Signed consent also gives Mrs. G TV & Appliances permission to use any images of the winning design and artist in any media placement during and following the contest. Designs can be submitted by mail or email and must be received by October 12th, 11:00pm EST. Mrs G TV & Appliances, along with Leon Rainbow & The Arts Council of Princeton, will pick the top 3 artists and notify them by phone or email. The painting event, which is open to the public, will occur on Saturday October 20, 2012 and the refrigerators will be on display through late Fall. Visit MrsGs.com for future updates.
Please follow and like us: