Are you hosting more dinner parties and family gatherings?  Are you worried you need another oven to prepare your holiday party?  If you only have 30 inches to spare for a range, then the 30″ freestanding double oven range solves the never ending battle for a second oven.  What exactly is a double oven range?  The range actually has two separate ovens with two separate doors. A dual oven range allows you to prepare 2 turkeys as the same time or two different dishes at two different temperatures at the exact time. If you just need to feed your family or prepare a feast, with two ovens, there's no limit to how you can cook.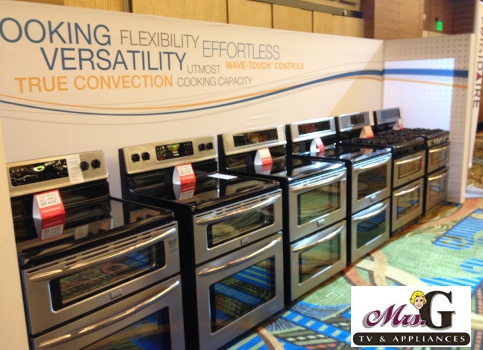 Depending on the brand, this innovative appliance comes as a double oven gas range, double oven electric range or a dual fuel double oven range. They all come in stainless, and a few are offered with a choice of black or white.  Preheating an oven in a double oven range is much quicker than a traditional single oven range. Another appealing feature that most dual oven ranges have are a 5-burner cooktop with at least one high performance burner. Some brands boast that they have the most capacity, but all of these ranges are ideal for big meals and give you room to cook an entire holiday dinner.
Below are my 4 top picks of double oven ranges:
Frigidaire Double Oven Ranges
The new Frigidaire Gallery ® Double Oven Electric Range with Symmetry™ Double Oven, FGEF306TMF,  is big enough to cook a 28 pound turkey in both parts and provides the flexibility to cook multiple dishes at the same time at different temperatures.  Total capacity is 7.0cf with 3.5 cf  upper oven capacity and 3.5cf lower oven capacity. The upper oven has convection. The Fits-More ™ Cooktop has five elements including two SpaceWise® expandable elements and a warming zone so you can cook more than once.  Frigidaire Symmetry Double Oven Electric Range also comes in black or white. Frigidaire does have a gas double oven range, FGGF304DLF,  however the capacity is 5.8cf with the upper oven at 2.3cf and the lower oven at 3.5cf.  Click here if you would like to see a short video on the Frigidaire double oven electric range.
 
 GE  Double Oven Ranges
Professionally styled and equipped to cater to a large gathering,  the GE Cafe Double Oven Range, CGS990SETSS,  currently only comes in gas and is 6.7cf. An upper over with a capacity of  2.4cf provides additional baking space and a 4.3cf lower oven capacity gives you the room you need to cook large meals. The lower oven is convection; the upper oven is traditional baking. A 20,000 BTU tri-ring burner offers the flexibility of three different burners.  The GE Profile Double Oven Range, PGB995SETSS, offers more contemporary styling and a burner that reaches 17,000 BTU. The GE Profile Double Oven Gas Range is also available in black or white. GE offers double oven electric ranges, however, the capacity is a bit smaller at 2.2cf/4.4cf. To see a quick video of the GE Café Double Oven Gas Range click  here.
LG Double Oven Ranges
The LG Double Oven Gas Range, LDG3016ST,  offers 6.1cf of oven space including 2.2cf upper oven capacity and 3.9cf lower oven capacity. A 17,000 BTU burner brings other liquids to a boil quickly. The LG  Double Oven Range, which has both electric and gas, is the first to ever use an infrared grill system. With the same technology as premium outdoor grills, it allows your food to be juicier than traditional thermal cooking.  There's nothing like grilling in the great indoors. If you want to see a video on the LG Double Oven Gas Range click  here. (note they have the wrong model number in the video).
KitchenAid Double Oven Ranges
KitchenAid has the  industry's only dual fuel double oven range, KDRS505XSS, with 6.0cf of oven space including 2.1cf of upper oven and 3.9cf lower oven capacity.  Their high performance burner reaches 16,000 BTU and they offer a cast-iron griddle for their 5th oval burner. The KitchenAid Double Oven Range offers a roll out rack that extends on ball-bearing rollers for easy loading and unloading of large or heavy dishes. The lower oven has True Convection System providing consistent and even heating. The oven's slow cook function provides superb slow cooking without taking up valuable counter space. If you do not already know by now, Whirlpool owns KitchenAid and Maytag. Whirlpool double oven ranges and Maytag double oven ranges are going to be similar in size but have step down features that are reflected by a lower price point. Click here if you want to see a short video of the Kitchen Aid.
There are many choices when it comes to selecting the best double oven range for your needs. Here I have just highlighted a few. Stop by Mrs. G TV & Appliances in Lawrenceville, NJ to see a great selection of the best double oven ranges.  Mrs. G's knowlegeable sales professionals will help you select the range that fits your cooking style and budget. Prices are lower in the store than the MAP prices shown. It's time to get ready for the holidays!
Please follow and like us: