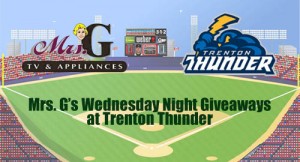 Many customers ask me, "Who does your marketing?" I think they are expecting a big name, but actually it's all me. They ask me this question because they see Mrs. G's and me all over the place. Yes, I am everywhere and sometimes I can't believe how I do it all raising 17 year old twins by myself, and who at the time of this blog post, still do not have their driving license. (But soon, I hope.)
I use common sense marketing 101: advertise where most of your customers will be and move around your marketing dollars to different media sources. One of the best marketing efforts I made this year was partnering with the Trenton Thunder baseball team, a New York Yankees minor league affiliate, who play at the beautiful Waterfront Park in Trenton, NJ.  This was a big effort for the store and actually took a year to put together.  Marty Teller, Manager, Corporate Partnerships developed a fabulous marketing plan.  At every Wednesday Night home game (there are 7 during the summer), Mrs. G's will give away an appliance of my choice, valued at around $1,000 each with advertisement in the scorecard and during the game we will have a table showcasing the giveaway and allow fans to sign up and win. Home run indeed! I selected the manufacturers to participate with me and we were on our way.
We are half way through the Mrs. G's Giveaways and it has been way beyond my expectations. The ball park is so family friendly. Clean as a whistle and every seat is a good one! We must talk to over 300 people per game.  What a wonderful way to engage with the community and receive not only positive feedback but also constructive criticism so we can be the best that we can be! Below are pictures of the lucky winners thus far. Trenton Thunder even put up our logo in lights on the scoreboard a few times during the evening and announced the giveaway. Great advertising! So far, we have given away a GE washer and dryer, a Bosch washer and dryer, a Weber grill and a Miele vacuum.
A surprising bonus was an invitation by Trenton Thunder to the Mrs. G's VIB bloggers on May 25th for an evening inside the press box. Are you kidding? SCORE! Mrs. G's VIB's are now celebrities. Below is a photo of the gang who attended, along with the view from the press box. Ed Tseng, a motivational expert and blogger interviewed Brandon Laird, one of the star players before the game. What does Brandon do? He hits a home run in the last inning to win what was a very close game. Now that is the power of Ed! Katie DeVito one of the bloggers commented on the night "Enjoying the game from the press box with fellow Mrs. G's VIB's was such a treat. My husband and I were thrilled to be invited to such a fun event". It was a beautiful night in the park and the bloggers were tweeting all night long. That night, the Thunder invited me to be interviewed by the announcer on the radio. How cool is that! I'm so much better on the radio then in front of a camera!
The next Wednesday night game is on the 18th of August and we are given away a 60″ Mitsubishi 3-D ready home theater TV.

How about that? So come on down for a family night out for a chance to win the TV. I'll be there and I would love for you to stop by the Mrs. G's table and say hello! Go to our Thunder Page on the Mrs. G's website so you can get discounted tickets. Go Trenton Thunder!!!
August 25th – Frigidaire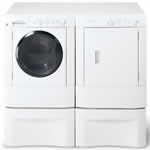 September 1st – Maytag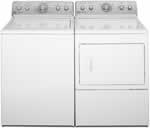 No purchase necessary. Employees and relatives of employees of Trenton Thunder and their Vendors and Mrs. G TV & Appliances are not permitted to enter or win this promotion.
Please follow and like us: