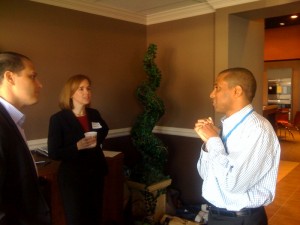 We had a great turnout for our 3rd "MrsGsVIB Blogger Event". I can't believe how time flies by. It feels like it was just yesterday when I first starting planning these events back in September with Hilary Morris and Electrolux. The best part about these events happens in the first 5 to 10 minutes when bloggers/tweeples meet their followers face to face for the first time. You can feel the excitement in the room when two bloggers who have been following each other for some time and have no idea who is coming to the event and snap, they are face to face. It amazes me how they remember their followers when they have so many. Most have over 1000 followers.  My favorite surprise face to face was Khurt Williams meeting Robin Birkel for the first time. Two of the nicest and most interesting techie bloggers I know, who lit up the room when they met each other for the first time. Most of their conversation went way over my head.  But they had me at Hello!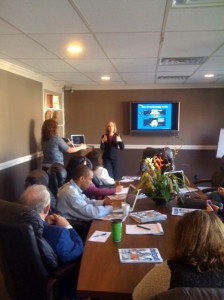 Suzanne Kantra, the founder and editor of Techlicious.com was our guest speaker. I met Suzanne in June 2009 at a Consumer Electronics Event in NYC. Techlicious.com makes tech simple. According to the Consumer Electronics Association, women influence the purchase of more than 90% of consumer electronics.  Women can go to Techlicious.com to get straightforward advice on consumer electronics that is not overly geeky but in a language that they can understand. Check out Techlicious.com because they keep their readers up-to-date with how-to videos, new product and website recommendations, as well as useful tips for getting the most out of the products they already own.
Suzanne wanted to talk about the exciting new world of 3D and of course to make it easy to understand. Not that easy to make it easy but that is what she does best. I've attached her informative presentation.
We had on display the current Mitsubishi DLPs that are 3D capable showing a demo tape with active shutter 3D glasses run on an Aspen Server. The demo blew everyone away. The new Blue-Ray players that send the 3D signal to the TVs were not available during the event. (We have them now!) I was happy to have our Mitsubishi rep, Michael Press and our Monster Cable rep, Scott Pecchia on hand to answer those techie questions that I new Robin and Khurt were prepared to throw at us. My army was ready!
ShutterBug Geek wrote an amazing post about the MrsGsVIB Blogger event. There is no way I could have written the details any better. Boy is she good! No, she's great!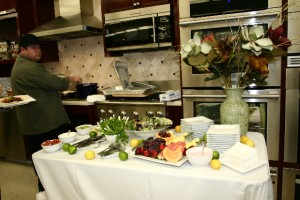 Of course every blogger event ends with a tasty lunch. McCaffrey's Supermarket, a local family owned business, catered the lunch of steak and shrimp fajitas prepared on the Electrolux induction cook top. New kitchen technology meets new family room technology.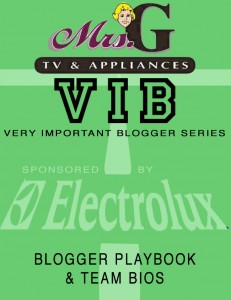 Please join us at our next MrsGsVIB Blogger Event in June featuring the celebrity creators of "Squeeze It In". If you're like me who wants to keep in shape but always complaining there is not enough time, this site is a must see and of course as soon as we have a date …save it! June seems so far away but we all know time flies especially when you are having so much fun!
Please follow and like us: