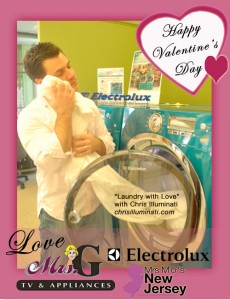 Happy Valentine's Day everyone! I should have written about MrsGsVIB Blogger Event last week but I wanted to wait till our Valentine's Day Card was finished. Thank you to Chris Illuminati. Sooooo handsome!!
Our second out of five MrsGsVIB Blogger Event special guest Dr. Dolgoff, pediatrician and child obesity specialist, was absolutely fantastic and what a great turnout. We had close to 30 people that included many of the original bunch. I pride myself in knowing a lot about nutrition and watch everything I eat. I also monitor as much I can what my daughters eat. Boy did I learn a few things. Dr Dolgoff, known by many as Dr. Weigh author of Red Light, Green Light, Eat Right gave a very interesting power point presentation on childhood obesity. Here are a few interesting facts:
1/3 of kids are too heavy!
The recommended Daily Caloric Intake for ages 7- 11 is 1900,12-14 girls 2000, 12-14 boys 2400!
Teens eat about 1650 calories when they eat fast food for lunch!
Low carb diets are NOT safe for children!
Juice is not healthy!
A 12 ounce can of soda contains the equivalent of 10 teaspoons of sugar!
Tip for packing a healthy lunch: A WHEAT+A MEAT+A TREAT!
This was a doosy! The wrap has more calories than two pieces of of whole wheat bread!
What new info did I learn. No more orange juice in the house and absolutely no more WRAPS! I highly recommend that you visit Dr. Weigh's website if you have young children.
I knew this was an exciting presentation because everyone was taking notes. We ended with a turkey chili and salad lunch and everyone went home with a few new friends, lots of blogging to do and purging their refrigerators.
Congratulation to QueenMother Blog who won a brand new Electrolux Dishwasher! How about that!
Stay tuned for the 3rd MrsGsVIB Blogger Event in March. It's going to be all about the tech world through the eyes of women with a guest speaker from Techlicious.com. See you then! In the mean time, keep blogging away…..
---
"Giveaway" sponsors for the MrsGsVIB Blogger Event were:
---
Thanks again to the MrsGsVIB Blogger Eventattendees!
Bhavana Williams
Ed Connors
Bill Noval
Herb Rodriguez
Danielle McGrath
Please follow and like us: