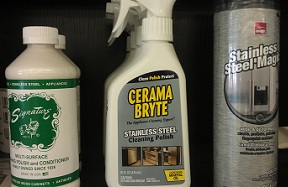 The most common complaint we hear from owners of
stainless steel appliances
is that the surfaces are so hard to get and keep clean. These appliances look amazing in the showroom, and then are riddled with finger prints and worse almost as soon as you get them home — especially if you have a house full of little ones. It's a major cause of frustration that can easily be avoided.
Sometimes cleaning your stainless steel
range
or
refrigerator
is as simple as wiping it down with a damp cloth, but the more stubborn marks and stains may require a stainless steel cleaner.
Mrs G's recommends:
We sell a few different types of stainless steel cleaners and polishes at
Mrs. G TV & Appliances
. Here we will rank them from good, to better, to best. Learn what makes them great and what could be improved.
Good: Stainless Steel Magic
This simple "wipe and go" formula cleans, protects and polishes, and is fingerprint resistant. We use this cleaner most often in our store. Our
showroom
has hundreds of appliances on display every day, so we love that this is a quick and effective way to clean our
stainless steel dishwashers
,
refrigerators
,
ranges
and more. It can also be used on chrome and aluminum surfaces.
The drawbacks of this are that it's an aerosol can, which is not earth friendly, and it has strong vapors which can become harmful if breathed in for a long period of time.
Better: CERAMA-BRYTE
This stainless steel cleaning polish comes in a non-aerosol spray bottle. It contains mineral oil to help protect from future spots. You'll love the brilliant, streak-free shine that lasts longer because of its phosphate-free formula. It quickly removes fingerprints, water spots and food stains.
The drawbacks are that it is not proven to be safe on other types of surfaces.
Best: Signature Multi-surface Cleaning Polish and Conditioner
Signature Polish has been the leading multi-surface cleaning polish since 1926. It's not just for stainless steel. This impressive cleaner is so good it's recommended by Wolf and Sub-Zero for stainless steel finishes. This solution is free of harsh chemicals, abrasives, acids, etc. and has no offensive odor. It's not only safe on stainless steel appliances, but also on countertops, tile, faucets, leather, chrome, wood cabinets, antiques and so much more. The gentle formula removes greasy film, water marks and finger prints and leaves a protective barrier to prevent future marks.
We can't think of any drawbacks to this cleaner. It's environmentally friendly, easy to use and works great on nearly any surface in your home, boat or car.
Best: Bar Keepers Friend
Since 1882,
Bar Keepers Friend
has been one of the best stainless steel cleaning options available. Made with rhubarb, its solution is safe and environmentally friendly. And it's so effective that it's recommended by
Viking
and other
top appliance manufacturers
. It's also safe for use on porcelain and ceramic materials, among others. It comes in liquid or powder formulas.
How to properly clean stainless steel: Things to remember
Read the label: With any cleaner, you should always read the instructions for proper use and take heed to any cautions listed on the label.
Always dry after cleaning: If after trying all kinds of cleaners you still see those pesky water marks, it's probably not the cleaners. It's probably hard water. After cleaning your stainless steel surfaces, rinse it with a damp cloth, and then dry it immediately with a paper towel. That should eliminate water marks.
Use the proper tools: Do not use a brush or any harsh material to clean your appliances. Microfiber cloths or paper towels are the safest to use.
Always go with the grain: Wipe in the direction of the natural metal grain to clean microscopic grooves where dust and dirt can get trapped.
Stainless steel appliances don't have to be a hassle to keep clean. A proactive approach to cleaning and the right cleaner are all it takes to keep your appliances spotless.
Mrs. G TV & Appliances
always has the products mentioned readily available.