I am happy to welcome Drew McGarry, Mrs. G's sales professional and our newest guest blogger. He attended a Mrs. G's Lunch and Learn for architects, designers and contractors hosted by U-Line on Modular Refrigeration. Drew will share The Modular 3000 Series, U-Line's newest innovation which provides the simplest method for adding custom integrated overlay panels or frames and toes-kick  for that truly seamless and simply elegant installation into a standard 24 inch depth cabinet base.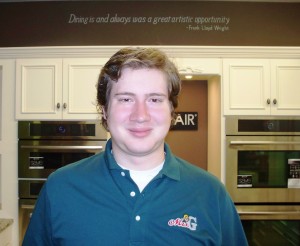 The practice of hiding appliances in kitchen design is nothing new. For years refrigerators and dishwashers have been designed with the ability to accept custom panels with the goal of blending in with the cabinetry.  As manufactures have become more design conscious, some units now feature fully flush applications to integrate almost seamlessly.  One category that hasn't received quite as much attention until now has been under-counter refrigeration.  It's rare to find a paneled unit with a fully flush application, and even then there is the unsightly hinge disrupting the cabinet lines and unveiling itself to the world as an appliance.  The new U-Line Modular 3000 Series changes all of this; it gives the consumer the quality and convenience of features previously restricted to full size refrigeration.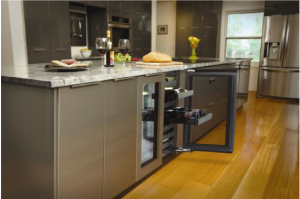 The designers at U-Line have developed a series of under-counter units that finally achieve a fully-integrated aesthetic.  First, all units are built in and can be installed to be fully flush with standard 24-inch cabinetry.  To assist with this, front, rear, and toe kick assembly is independently front adjustable, ensuring a perfect fit.  All units in the line feature hidden hinges, helping to further hide the appliance.
In the past, consumers who wanted extra under-counter storage were forced to purchase two units, making the side by side installation nearly impossible. The units simply would not cooperate to be perfectly level.  U-Line now offers the 3000 Series in a variety of 36'' wide units. Consumer can choose two separately controlled wine or refrigerator zones, or a combination of each.
The new features of the 3000 Series are not only limited to the design.  Fridge units feature crisper drawers, and one-touch preservation settings based upon what is being stored, including a Quick Chill option to lock in freshness after the unsettling trip home from the market.
One of my favorite features about the units is their wide temperature range.  Most under-counter beverage centers can only reach a low temperature around 40°F.  U-Line units can reach temperatures of 34°F, which is terrific for those who like their beer extra cold and want the flexibility to use it as overflow refrigeration when necessary.
The U-Line 3000 Series certainly demands consideration when you're in the market for a new under-counter product.  The line currently includes wine storage, beverage centers, refrigerators, and combination units.  Ice makers and freezer units are currently in development and should be released shortly.  They are an excellent addition to any kitchen, bar, or media room.  Come in to the showroom today to see these outstanding pieces in person!
Visit Drew at Mrs. G TV & Appliances and he will be happy to introduce you to our new U-Line 3000 series display and walk you through the complete product line.
Please follow and like us: