In 2022, home appliance shortages are real, across all brands and all categories, and are going to continue, and most likely get worse before they get better. WHY? It's a Perfect Storm! In this blog, I will explain what is going on, the different scenarios of an appliance purchase, and how Mrs. G can help you "weather" these events. As a locally owned and operated business, we are here for our community!
Many of our customers are familiar, via media channels, about the on going home appliance inventory shortages. However, most think it's based on the increase in demand due to the home renovation & real estate boom. There is so much more to talk about.
Demand is way up for Home Appliances and Building Materials
Manufacturing- Severe Labor Shortages & Inability to Catch Up
Freak Accident in the Suez Canal
Deep Freeze Across the US
Container Vessels Running at Capacity; Global Manufacturers Waiting for Empty Containers
Foam & Computer Chip Supply Shortages
To take a deeper dive into the "Why" go to 'The World Economy Is Suddenly Running Low on Everything' via Bloomberg.com. Very good content.
Now let's work on the "HOW"… How do you find an appliance that is available within your budget without spinning your wheels, wasting lots of time and losing patience. Here is an interesting fact in my biz: Over 60% of kitchen & laundry appliance sales are "distress purchases". What is a distress appliance purchase? A purchase because an existing appliance has broken down.
If you are in the market for appliances: are you in immediate need to replace an appliance or are you getting ready to upgrade your appliances or doing a kitchen remodel? Each has a very unique path to purchase, especially during this time. First, I am going to address those who are in immediate need or as we called it during the very critical months of the pandemic- essential appliances.
As I mentioned there is a very real appliance inventory shortage however there is select product in stock. The inventory does ebb and flow. What's available today might not be available tomorrow. I'm preparing your expectation when you are ready to make a purchase during this time to be flexible and patient.
Over 90% of appliance shoppers search online before visiting or calling the showroom. That stat was before the pandemic. It's probably 99% today. Before and during COVID, Mrs. G Appliances like many other brick and mortar retailers, made enormous improvements to their website. I'm very proud of our site and have been for quite some time but there is always room for improvement. Recently, we added an "IN STOCK" Inventory Filter on mrsgs.com!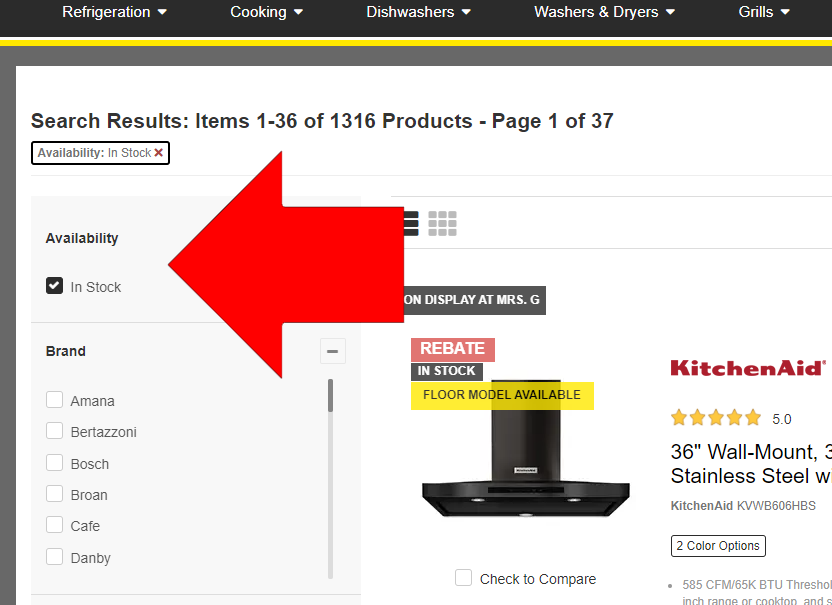 Website filters provide a more personalized seamless experience. The In Stock Filter removes the friction of wasting time looking at product that is not readily available when the need is urgent. Those items that are available will show up in red under the model number " Available In Our Offsite Warehouse: XX "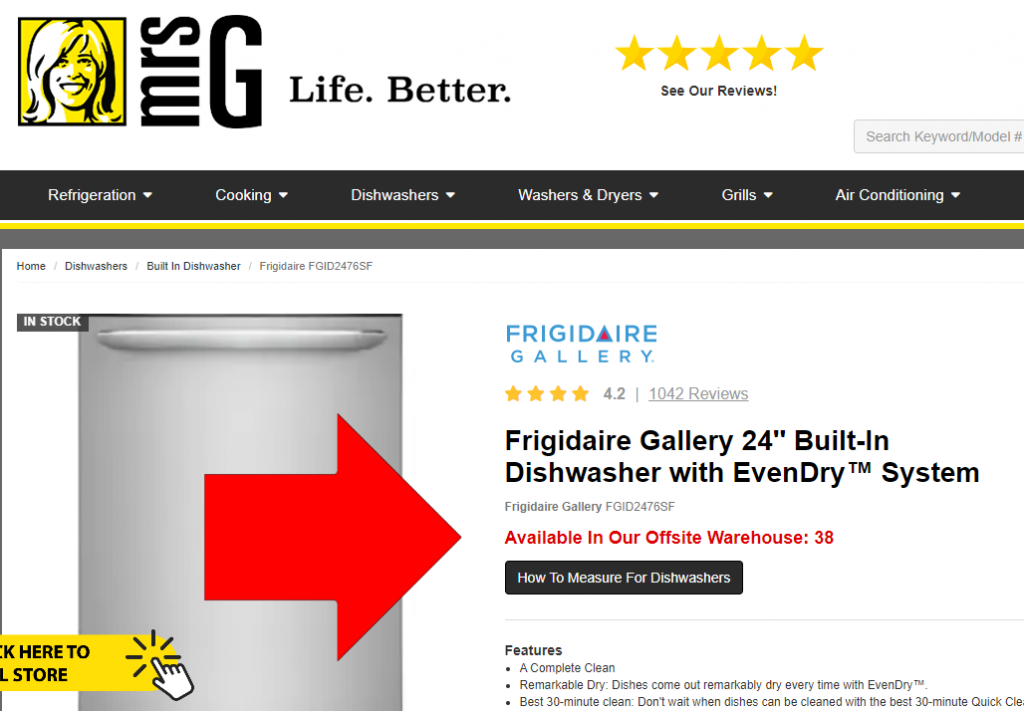 Our "Off Site Warehouse" is our cooperative buying group Appliance Dealer Cooperative ADC with over 200 members, 475,000 Sq. Ft. of warehouse space in THREE strategic locations. Picture below, I'm standing in the ADC Central NJ warehouse. Click on the link to watch a 1 minute video about our Off Site Warehouse. If it's available at ADC, only 30 minutes from our showroom, we can deliver to our local areas as early as next day. XX means how many are in stock in real time. At the time of this writing there was 38 Frigidaire Gallery Dishwashers in stock. We are not an aggressive sales floor. We like to give our customers the time they need to make the decision that best suits their needs. However, this is a crazy time. So what appears to be in stock today may not be in stock tomorrow. Appliances do sell that fast. Believe me! When you see it, you like it, buy it! Or else it truly might not be there if you wait.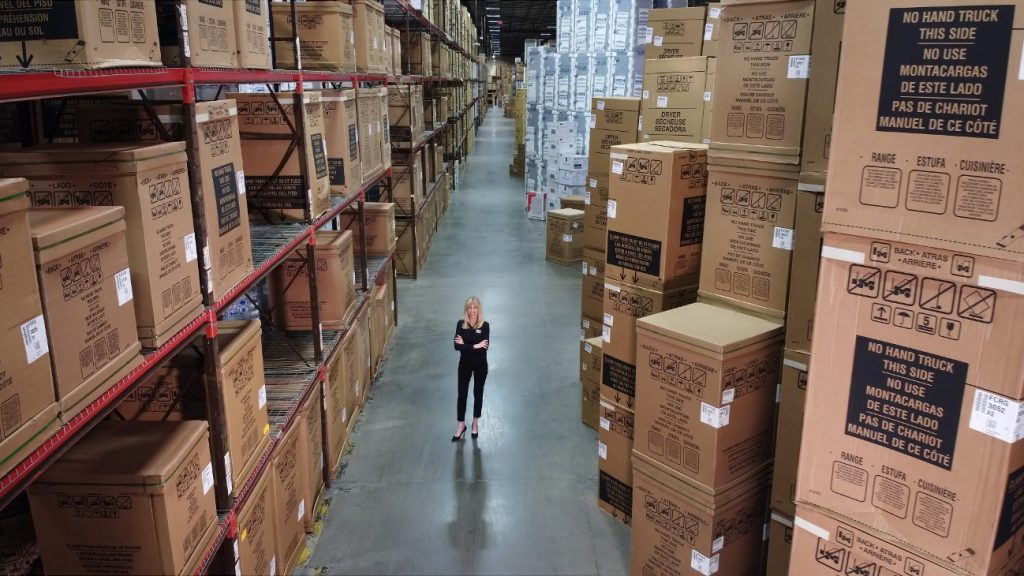 It's still amazes me how many customers already know what we have in stock before the conversation starts in our showroom. I was just helping a customer with a 30″ French Door Bottom Freezer in Black Stainless. He saw three on our website when he was searching. He expected all 3 to be available when he was ready to purchase. He was lucky, one was still remaining. Yep…he got it next day. He needed the 30″ because he only had 67″ in height to fit. He was so happy to Shop Local.
Ok, so what if you really wanted a model that is not listed on the In Stock page on our website? This is a perfect time to visit the showroom, telephone or start a chat on the site and talk to our appliance experts who will be able to assist on choosing an alternative appliance that is in stock. They know up to the minute what is available. Another option is that the appliance you are looking for just might be on our showroom floor. This is also filtered on our website. Not in all cases, but for the essential purchases urgently needed, there is a chance we would sell off the showroom display model. More than likely, a dishwasher, washer or dryer, free standing refrigerator, and other essential appliances, the display model is only a few days or weeks old.
Lastly, we have quite a few customers that are shopping for replacement but their existing appliances are still chugging along. They are not distressed but are close to end of life. Be careful on estimated time of arrivals provided by manufacturers if you feel you have time to wait. Our experience over the last few months, manufacturers are have trouble projecting ETAs. Many dates have come and gone due to the perfect storm and many have gone from an ETA to TBA- to be announced. As I mentioned above, manufacturers can not catch up to demand. At this time they are filling orders not building up inventory. That means if you see plenty in inventory today do not expect it to be available in the near future. No one knows for sure.
By shopping local and supporting our community, you can rest assured that the Mrs. G Appliance Experts will find you an in stock appliance quickly, especially during these unprecedented time.
Let's talk about the other 40% appliance consumer who are planning to upgrade appliances, begin a kitchen remodel or even building a new house or addition. Time is on their side. Sort of… not really.
Depending on the manufacturer, this doesn't mean those made in USA or out of the country, all manufacturers are having supply chain issues, the delays can be staggering. Planning for the future is a scheduling nightmare.
My advice is to start early on your appliance purchasing journey. Collect as much information as you can from our appliance experts. Once an order is placed for a product that is not in stock, you have now entered the queue and we will do our best to provide updates every few weeks to make sure you are informed if there are any changes to ETAs or TBAs. Do not assume if an item is in stock at the time of your research that it will be available at a later date. No one knows for sure.
Thank you for shopping local and allowing Mrs. G to make your Life Better! I look forward to seeing you in the Mrs. G Showroom.
Please follow and like us: