Hi! It's Debbie Schaeffer… 3rd gen owner of Mrs. G. Here are a few of my favorite home appliance gifts for the 2020 Holiday Season…..
#1 Plum Wine Dispenser
I bet you haven't heard of Plum, the first-ever wine appliance that automatically preserves, chills and serves wine by the glass. Plum took home the most prestigious award, Kitchen Gold Award, from this year's Kitchen and Bath Industry Show: Best of KBIS is an annual award program that recognizes the most innovative products in kitchen, bath, smart home and outdoor living. So that is why its #1 on my list.
You do not have to be a wine connoisseur to appreciate this awesome appliance. Experience the perfect glass of wine on-demand from your favorite bottles at home with the Plum wine dispenser. Plum features state-of-the-art preservation, cooling and automation to serve wine by the glass from any standard 750ml bottle, with any closure.
Plum's automated system preserves, identifies and chills your wine perfectly for up to 90 days. It identifies any of the 220 commercially available blends, and chills each bottle to the perfect serving temperature. Plum's motorized needle pierces any cork or metal screw cap, and the refillable argon canister preserves up to 150 bottles. Whether red or white, Plum delivers the perfect glass.
Love this……
#2 Sharp Air Purifier with Humidifier
Home appliances that improve the health of your home is on everyone's wish list this year. Breathe easier, live healthier. The KC-850U helps remove pollutants and common allergens such as pollen, dust, pet dander and smoke, and captures 99.97% of particles as small as 0.3 microns from the air that passes through it. It also reduces germs, bacteria, viruses, odors, mold and fungus. This is the ideal gift for for allergy sufferers, asthmatics, pet owners and smokers, and when used in humidify mode, can help relieve congestion, cough, and dry and swollen nasal passages. It can be used in a bedroom, living room, study or exercise room.
#3 The Big Green Egg
Ok… this has been on my holiday gift guide the last few years.
The Large EGG is the most popular size and a favorite to handle the cooking needs of most families and gatherings of friends. Accommodates all EGGcessories for baking, roasting or smoking – and it's versatile enough for weekend cook-outs or pizza parties, large enough for eight steaks at once, and efficient enough for an impromptu meatloaf for two!
No better time then now to turn someone special into an Egghead 4 Life!
#4 Traeger Grill
Grilling outside especially in the winter 2020 and 2021 will increase dramatically, especially for those who do not like to grill in the cold. The Traeger is a great gift because you do not need to baby sit the grill, because it has "WIFIRE". What is WIFIRE??? The connectivity feature that connects the grill to an app on your phone so you can stay warm an cozy inside while the grill is on outside. BTW…Did you know this grill is electric?? Yes it is…How about that! Easy Peasy to use!
#5 LG Styler
I just showcased the LG Styler in the latest Aspire Designer Show House in Princeton, NJ and everyone including the designers fell in love with this appliance. It's the perfect laundry companion that can refresh any garment in minutes. Features include asthma & allergy friendly® CERTIFIED Sanitizer and Odor Reducer. The LG Styler's TrueSteam® technology reduces the odors that cling to fabrics, knitwear and even delicates. You'll effortlessly make odors from smoke, sweat and food a thing of the past. Gentle Dry with Pants Crease Care too. We even refreshed hockey sports equipment that stunk. It works! WOW!
For one final gift idea, you can always get a Mrs. G e-gift card. Available online and starting at $100 and up. Visit our website to learn more.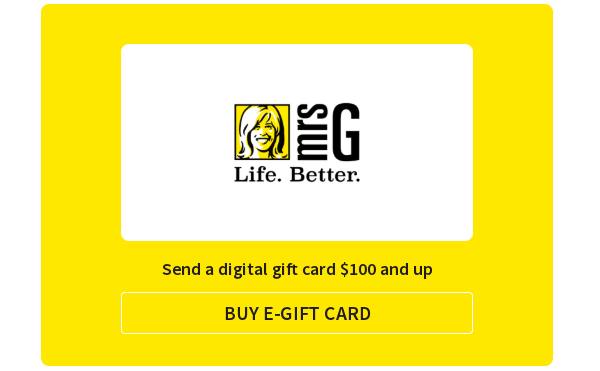 Thank you so much for visiting the Mrs. G Blog. The Mrs. G Team wishes you and your family a healthy and happy Holiday Season!
Please follow and like us: