It's that time of year for Debbie's Top Kitchen and Home Appliances Holiday Gift suggestions for 2018 that are available now while supplies last. These are so good I have already given many of them as gifts to my twin girls Leah and Samantha who are now 25 and on their own and I own, or on the way to my home, all these items and I highly recommend them.
Hestan Cue Smart Induction Burner and Smart Fry Pan
The Hestan Cue, Smart Cooking System creates a seamless cooking experience. Their smart cookware, induction burner and recipe app all communicate with each other in unison with you. I have one at home and here is why I like it. I truly do not make a mistake when I follow the recipes and videos. The Hestan Cue allows me to cook to perfection every time, guaranteed! Confidence in the kitchen means I'll be cooking more at home and eating healthier meals as well. This smart kitchen technology is also available in the Hestan Home Induction Cooktops and in GE Café induction ranges, coming soon to our showroom.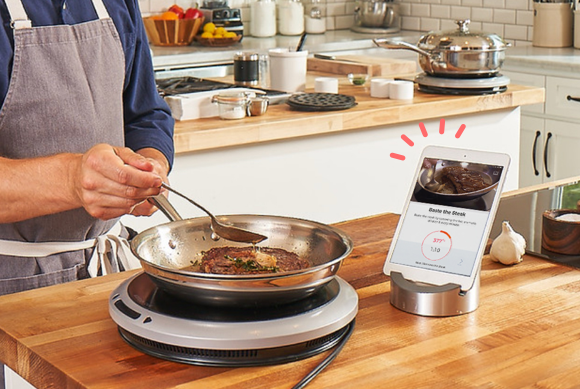 Sharp Superheated Steam Countertop Oven
It's time to rethink Steam. The Sharp Superheated Steam Countertop Oven is a powerful low profile, pizzeria style oven for your home. Roomy enough for a 12" pizza, it gives you more cooking area than a standard quarter size sheet pan. The combination of super heated steam and convection radiant heat in all cooking modes means that your food will be crispy and brown on the outside, moist and delicious on the inside. The innovation is simply better and promotes healthy living. Follow @Sharphomeusa on Instagram for recipes. Meatballs come out so tasty every time we cook them in our showroom using this product!
LG Styler
LG Styler is a new complete wifi enabled clothing care system for those who know it's smart to look sharp. Just hang clothes inside and you'll take them out refreshed. The Styler has many cycles that includes refresh, gently dries, pants crease care, and sanitary. We have it live in our showroom and use it all the time. I even tested to see if it would remove odors from stinky hockey equipment. Yes it can! The Sanitary Cycle, powered by True Steam Technology, reduces allergens in clothes, bedding, sportswear- even children's plush toys. Certified by the Asthma & Allergy Foundation of America. I just ordered one for my house.
Nest Products
Yes, we have a selection of Nest products available at Mrs. G including, Nest Thermostat, Google home in a variety of sizes, Nest Protect, Nest Cameras, Google Hello etc. Why you ask? Because all the Home Appliances from the brands you know and love all work with Nest. Yes, you can now say "Hey Google…Preheat the oven to 350 degrees" My home is now a Nest Laboratory as I have the Google Home Max that sounds amazing, Google Hello, Phillip light bulbs that work with Nest, Nest cameras inside & out and even my garage doors works with Nest. Soon I will have Lutron Window Shades that work with Nest so I can go " Hey Google… close the blinds". All to make my Life Better.
Looftlighter
A great gift for the grill enthusiast,the Looftlighter lights up your charcoal grill in seconds with superheated air. With the Looftlighter you'll never need lighter fluids to light your grill again. Totally, Eco-friendly! I have this at home and its fantastic! $79.99
It's my pleasure to personally invite you to visit the Mrs. G showroom to test drive all the items I selected for Debbie's 2018 Home Appliance Holiday Gift List. The Mrs. G Team wishes all our friends and followers a Healthy, Happy and Safe Holiday Season.
Please follow and like us: