Mrs. G's 5th Annual Farm2Grill Event is Saturday April 30, 2016 from 1PM – 4PM. The event will be held at Mrs. G at 2720 U.S. 1 Business, Lawrence Twp, NJ and is free.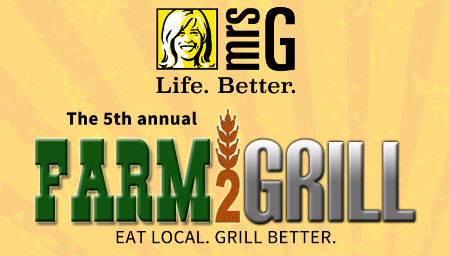 We are excited to be hosting this fun event for the 5th year. The theme for the event is "Eat Local. Grill Better." This year Mrs. G has partnered with the Princeton Farmers' Market to offer a tasting menu of grilled local food. There will be live grilling throughout the afternoon using fresh ingredients from local vendors.
This year's vendors include: Cherry Grove Farm, Chickadee Creek Farm, Davidson's Exotic Mushrooms, Jersey City Veggie Burgers, The Gingered Peach, Lima Family Farms, Terhune Orchards, Tico's Eatery & Juice Bar, and WildFlour Bakery/Cafe.
In addition to the live grilling and food sampling, we will also have a huge selection of grills on display from all the best grill brands including Weber, Lynx, Viking, Wolf, & Big Green Egg.
And during our Weber Grill Sale you get free delivery and free assembly with all Weber grills. We will have Weber grills on display from each line including Spirit®, Genesis®, Summit®, and the Weber® Q® Series. Now is the perfect time to see our biggest grill selection of the year in person and find an amazing deal.
So stop by on Saturday, April 30 for a fun day of grilling, local food, and a great selection of grills. We hope to see you there!
Please follow and like us: