Replacing an old GE Countertop Microwave PEM31SM or a JEM31?
Who would have ever thought GE would change the dimensions of one of their top selling 1.1CF Countertop Microwave Ovens and matching trim kits. These microwaves are very special as they are the only ones that were 12 -9/32" deep, able to fit snuggly with a matching trim kit in 12" deep upper kitchen cabinets. As long as I can remember, back to 2007 there have been a few model number changes, all of them retaining the original dimensions. Until NOW!
Unfortunately I learned the hard way as one of my good friends needed their JEM31SF with matching 27" trim kit JX827SS purchased in 2007 replaced. I sent them the current model PEM31SF, without checking dimensions, because I didn't think I needed to.  The unexpected call from the homeowner… "Debbie, it does not fit!"
This was a bit more complicated install for the homeowner so they reached out to their kitchen contractor. The contractor removed the back drywall because the new model was deeper. They decided not to purchase a new trim kit and just adjust the existing one. Luckily the cabinet did not have to be cut.
Here are the old dimensions compared to the new dimensions. GE is the only manufacturer to make a microwave that comes close to these dimensions!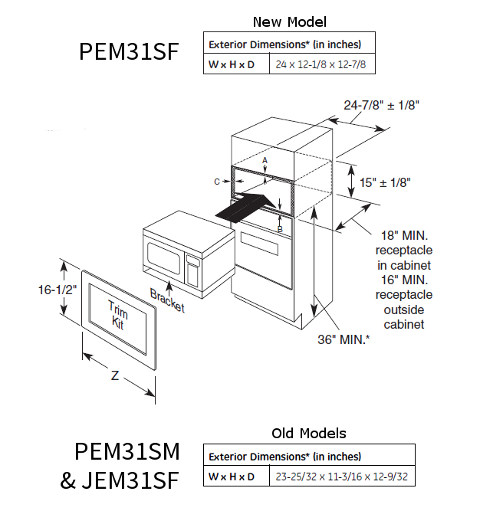 Please follow and like us: