Many people ask me "Who makes the best kitchen appliances?" That is impossible for me to answer. As a dealer who sells more than 40 different kitchen/laundry manufacturers it would be tricky and dangerous to favor one over the other. There are many questions we ask to narrow down the selection for the best appliance for our customer.
First, I ask "what brand did you have before?" For instance, if they were happy with their dishwasher that lasted for 20 years I would start with that brand and compare one or two others. Budget would come up shortly after. If they wanted to stay around $500 for a dishwasher I am not going to show them brands that start at $1000.00. And then of course features and finish would follow after that. I would let my clients do most of the talking to be able to narrow down the choices that best fits their needs and budget.
So if you still want to know who is the best, then let me direct you to the K+BB Readers' Choice Award 2014. More than 1,800 K+BB readers, who are dealers like myself as well as kitchen and bath designers, voted online selecting their favorite brands. The readers were asked to make the choices based on availability, support they receive from the manufacturer/supplier, budget and a few more specific criteria based on the product.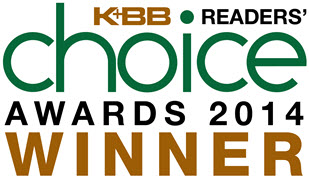 Here are the "best of the best" for 2014:
Cooking Appliances: Energy Efficiency Design Style and Ease of Cleaning
GE
Miele
Thermador
Viking
Wolf
Dishwashers: Energy Efficincy Integration into Cabinetry and Design/Style
Bosch
GE
Kichenaid
Miele
Kitchen Ventilation:
Best
Broan
Vent-a-hood
Wolf
Laundry Appliance:
Bosch
LG
Maytag
Whirlpool
Refrigeration Appliance:
GE
KTA
LG
Sub-Zero
And of course all of these brands listed in the Readers' Choice Awards can be found at Mrs. G. So if you need help picking out your next appliances, come to our showroom and let us help you find the right appliances that fit your needs, style and budget.
Please follow and like us: