I love contests, don't you? A few months ago a customer brought her dog to the store when it was 92 degrees outside and so humid. I got a bowl of water for the dog and yes, offered a bottle water to the customer, too. It occurred to me that I should always have a dog bowl outside for our next canine customers and post on our website that we are dog friendly. I then visited our local independent pet store, Dogs & Cats Rule to find a cute bowl, pad and treats. After a few moments in the store, it hit me. Our next contest should be for people to send in pictures of their dogs in the kitchen. When I got back to the office I Googled dogs in the kitchen and there were lots of creative and cute pictures. This contest will be lots of fun.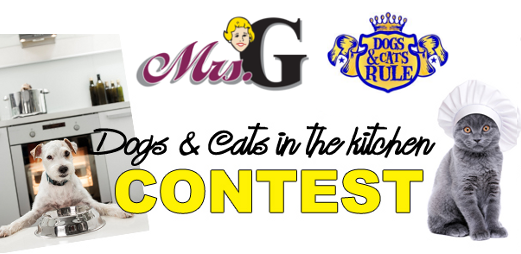 So what should be the giveaway? Bosch just introduced their Counter-Depth Freestanding French Door Refrigerator so I thought this would be the perfect giveaway. So did Bosch. I love partnering with local independent businesses so I reached out to Dogs & Cats Rule to see if they would not only like to partner but they could be the judges of the best pictures. They are the pet experts. Not only did they love the idea, but all of their kitchen appliances came from Mrs. G's. Sweet! So not only does the winner get a new fridge, but they also get pet goodies too.
I added cats to the contest after a red flag was raised from Mrs. G's social media experts who are cat lovers. Ok, cats are cute too. We launched the contest on August 26th, 2014, National Dog Day. Here are a few pictures for inspiration from Sales Manager Pete Foerst. Even though his family can't win the fridge they still had fun taking pictures.
You can find all the contest details on our Dogs & Cats in the Kitchen Contest Page…. Good Luck!
Please follow and like us: