Kitchen remodeling projects are exciting undertakings, but they can also be daunting tasks. There are many things to consider and an incredibly wide range of products and styles to choose from. The budget and timeline for the project are also major factors that have an impact on the process. Overall, there is a large amount of detail that must go into planning and remodeling, and it could become overwhelming. With the help of Jenn-Air, here are four time-tested, best practices to consider to help get off to a great start when remodeling.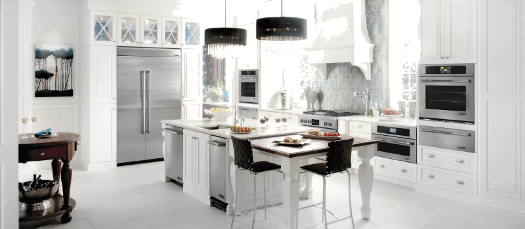 1. The first step you should always start with is building a design idea book. Separate the book into categories and be sure to also include pictures of what you don't like. Even though it may seem weird, it is a useful tool for narrowing down what you do like, and for communicating your personal style.
2. Next, think about your overall budget before you get started. It is important to know ahead of time the maximum dollar amount you will spend so you can make better decisions. Then put 20 percent of that amount away, which can be used if any surprises pop up during the remodel process.
3. Before shopping for appliances, remember to always take measurements of the space where you are going to fit your new appliances. Be sure to measure the height, width, and depth of the space. Bringing the measurements with you when you shop for your new appliances will save you a lot of time. It is also a good idea to take pictures of the space on your smartphone. The more information you have when shopping, the easier and more accurate the process.
You can also use the Jenn-Air DesignVision App to imagine and design your new kitchen. This first-of-its kind app lets you take a picture of your kitchen and position Jenn-Air appliances of your choice over your current appliances. This is an amazing app to get a feel for what you want your kitchen to look like.

4. Expect that everyone will give you different advice. Remodeling a kitchen is an exciting time, and people want to get involved and lend their opinion. That includes your neighbors, your friends, and your family, as well as design professionals. But keep in mind that it's your kitchen and should reflect your taste and personality. The design professional you decide to work with (if you plan on hiring one) should understand your style and vision, as the goal is to create a kitchen that's right for you, that works beautifully in your space, and that complements your lifestyle.

Following these best practices from the beginning will go a long way in helping your kitchen remodeling process go smoothly and enjoyable. For more helpful advice and guidance, visit the Jenn-Air web site at jennair.com/planning/insights-and-advice (from which this advice is derived) and come visit Mrs. G TV, Appliances & Sleep Center or online at www.MrsGs.com.
Please follow and like us: