Summer is coming to an end and Labor Day is fast approaching. That means it's time for the Mrs. G TV, Appliances & Sleep Center 2013 Labor Day Sale. Mrs. G's manufacturers like GE, Whirlpool, LG, Samsung, Bosch, and more are all offering incredible instant rebates, mail-in rebates, or special pricing just for this big sale.
Our 2013 Labor Day Sale is filled with huge deals in kitchen appliances, including ranges, refrigerators, dishwashers, microwaves, and more, and a laundry clean-up sale featuring a wide selection of washers and dryers from various brands. We also have a Serta promotion from the Mrs. Gzzzz Sleep Center for those looking to purchase a new mattress.
Plus, for such a big sale, we will be offering 8 straight days of 12 month special financing, from 8/28 – 9/4/13. See store for full details.
Here is just a small sample of some of the amazing deals you will find in our Labor Day sale this year. View our circular and Labor Day Sale page to see even more great buys.
If you're looking for a new range this Labor Day, we have an excellent selection on sale. One of our featured deals is this Whirlpool gas range, WFG510S0AS. This range was $749, but is on sale for $599 from 8/25 – 9/3/13. You can also get the electric range model, WFE510S0AS, for the same price of $599 during this period.
One back to school special we have as part of our sale is this Frigidaire 2.5 cu. ft. compact refrigerator, FFPH25M4LB. Normally priced at $209, this refrigerator is on sale for $159. Save $50. This is a great option for dorm rooms and more.
Laundry clean-up is another big part of our Labor Day sale. One great buy in washers is the Whirlpool Duet 4.1 cu. ft. Front Load Washer, WFW70HEBW, priced at just $699 from 8/25 – 9/3/13. Plus, there's a $40 mail-in installation rebate also available in addition. And if you're looking for a pair, the matching dryer, WED70HEBW, is also on sale for $699 from 8/25 – 9/3/13 plus the $40 rebate.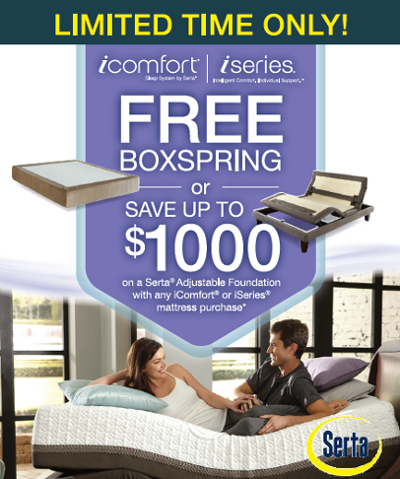 The Mrs. Gzzzz Sleep Center also has a great Labor Day special this year. Purchase any Serta iComfort or iSeries mattress and get a free boxspring OR up to $1000 off a Serta Adjustable Foundation. This special offer is going on now through September 8th 2013. See store for full details.
So whether you're looking for new kitchen or laundry appliances, or even a new mattress, Mrs. G's has what you need. These are just some of the great deals we are offering this Labor Day. To see even more, be sure to visit our Labor Day Sale page, and come into the store between 8/23 and 9/2 to take advantage of all the savings. We look forward to helping you.
Please follow and like us: