"Cooking is like love, it should be entered into with abandon or not at all."- Harriet Van Horne, 'Vogue' 10/1956
What better way to celebrate Valentine's Day than preparing a meal at home for that special someone.
Here are some great recipes that include ingredients that will spark romance and passion:
♥SPICY HUMMUS
CHICKPEAS:  believed to have aphrodisiac properties in ancient Roman history, making hummus a very provocative appetizer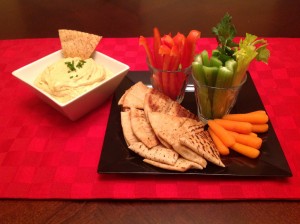 Ingredients
3 cups chickpeas, cooked or canned, drained and rinsed
5 cloves garlic (roasted or fresh)
1 tablespoon chipotle puree
2 tablespoons fresh squeezed lemon juice
2 tablespoons tahini
1/2 cup olive oil
Salt and freshly ground pepper
4 pita bread
3 tablespoons olive oil
Directions
Place chickpeas, garlic, chipotle, lemon juice and tahini in the bowl of a food processor and process until smooth. With the machine running, slowly add the olive oil until emulsified. Season with salt and pepper to taste. Brush the pita with olive oil on both sides. Grill until golden brown. Cut into eighths. Serve hummus with pitas and fresh vegetables.
♥SHRIMP & MUSHROOM RISOTTO
MUSHROOMS: Thought to have aphrodisiac and super-human powers in the past, today mushrooms are proven to offer antibiotic and anti-inflammatory effects.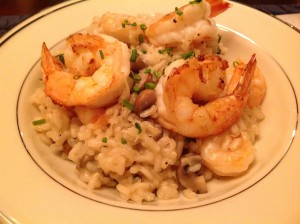 Ingredients
Extra-virgin olive oil
1 1/2 pounds shrimp, peeled & deveined, 21-25 count
Salt and freshly ground black pepper
1 onion, minced
2 garlic cloves, minced
1 pound crimini mushrooms
Leaves from handful fresh thyme sprigs
2 tablespoons chopped fresh flat-leaf parsley
2 bay leaves
2 cups Arborio rice
1/2 cup dry white wine, such as Pinot Grigio
8 cups canned chicken stock, heated
2 tablespoons butter
1/2 cup freshly grated Parmigiano-Reggiano
Fresh flat-leaf parsley, for garnish
Directions
Place a large, deep skillet over medium-high heat and drizzle with a 2-count of oil. When the oil is hot, sprinkle the shrimp with salt and pepper and brown well on both sides, about 2 minutes. Remove to a plate and cover to keep warm while you make the risotto.
Reduce the heat to medium. Drizzle in another 2-count of olive oil. Add the onion and garlic and cook, stirring, for 5 minutes until soft. Toss in the mushrooms and herbs and cook until the mushrooms lose their liquid and are lightly browned, about 10 minutes. Season with salt and pepper. Add the rice and stir 2 minutes to coat with the oil; the grains will turn opaque. Season again. Stir in the wine and cook 1 minute to evaporate the alcohol.
Now pour in 1 cup of the warm stock and stir with a wooden spoon until the rice has absorbed all of the liquid. Add another cup of stock. Continue in this way, stirring constantly and adding the stock 1 cup at a time, allowing the rice to absorb the liquid before adding more. (You may not need all of the stock; the risotto is done when it is slightly firm but creamy.) Fold in the shrimp with the last cup of stock to warm them up. When the risotto is cooked, fold in the butter and cheese, and drizzle with a little more olive oil. Serve hot. Garnish with parsley.
♥BASIL PESTO
BASIL: known as the herb for lovers, has a sweet, spicy scent with rich undertones. It has an alluring aroma and healing power known to cure any type of headache. Basil will warm the body and promote circulation, igniting sensual and loving feelings.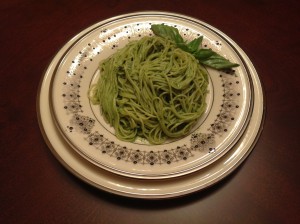 Ingredients
2 cups packed fresh basil leaves
2 cloves garlic
1/4 cup pine nuts
2/3 cup extra-virgin olive oil, divided
Kosher salt and freshly ground black pepper, to taste
1/2 cup freshly grated Pecorino cheese
Directions
Combine the basil, garlic, and pine nuts in a food processor and pulse until coarsely chopped. Add 1/2 cup of the oil and process until fully incorporated and smooth. Season with salt and pepper.
If using immediately, add all the remaining oil and pulse until smooth. Transfer the pesto to a large serving bowl and mix in the cheese.
If freezing, transfer to an air-tight container and drizzle remaining oil over the top. Freeze for up to 3 months. Thaw and stir in cheese.
♥CHOCOLATE CHILE FONDUE
CHOCOLATE:  one the most sensual and romantic foods, and its aphrodisiac power traces back hundreds of years in history. Eating chocolate releases endorphins in the brain which makes a person feel happy and loved. Throw some strawberries in the mix, one of the foods people think of most often before romantic encounters, and let the evening unfold.
CHILE PEPPERS: score near the top of love's leader board. Their ability to release endorphins can cause a boost in mood and surge in energy as good. Chile's heat warms the body from the inside out. Capsaicin, the compound that causes chile's burn, will make the tongue tingle with need to be kissed and cause lips to swell with desirable plumpness. Most famously, chile was used as a key ingredient in the fortifying chocolate drink the great ruler Montezuma.
NUTS: Almonds and walnuts have, in the past, been a symbol of fertility. Ancient Romans used them in fertility ceremonies and threw walnuts instead of rice at newlyweds.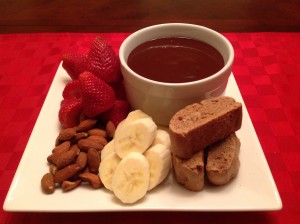 Ingredients
2 tablespoons sugar
1 cup heavy cream
8 ounces chopped bittersweet chocolate
1 tablespoon butter
2 teaspoons pure vanilla extract
½ teaspoons chili powder
Pound cake cubes, for dipping
Strawberries, cleaned, for dipping
Almond biscotti cookies
Directions
In a microwave-safe bowl, mix the sugar, heavy cream, chocolate, and butter together and microwave for 2 minutes.
Take out of microwave and give it a quick whisk. Add vanilla and chili powder, whisk again. Transfer to a fondue pot with a flame underneath. Serve with pound cake cubes, strawberries, and biscotti on the side, for dipping.
COFFEE:  Coffee has always had a romantic, late-night feel to it. Just the aroma of coffee itself can perk up the senses any time of day. What better way to get a special someone feeling energized? Serve it up for them in a demitasse cup to create a special love buzz.
What are your favorite romantic dishes? ♥
Please follow and like us: