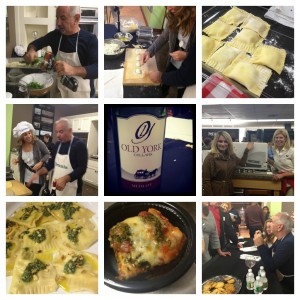 On Sunday, October 7th, NJ 101.5's popular daytime co-hosts Dennis Malloy and Judi Franco came to Mrs. G TV & Appliances and delighted a group of 101.5 listeners with a show that combined Dennis' culinary talents and Judi's sharp wit. Dennis prepared some Italian favorites, Eggplant Parm, Pesto and Homemade Pasta. Below are some of his recipes for you to try at home. Let us know if you made it and how it turned out!

Eggplant Parmigiana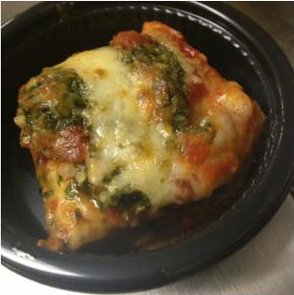 Ingredients
– Five large eggplants
– Small bag of pasta flour
– A few eggs(for the egg wash)
– Three large cans of crushed Italian tomatoes
– 1 small package of fresh basil
– 1 container of grated parmesan cheese
– 4 bags of shredded mozzarella cheese
Preparation:
Slice the eggplant, dredge in flour, and saute
Layer in a casserole dish with cheeses, tomatoes and fresh basil
Bake in oven for 30 minutes at 375°
Pesto Sauce
 Ingredients:
– 5 containers of pine nuts
– 5 large containers of fresh basil or 15 small containers of basil (whatever is available)
– 2 12 or 16 oz. containers of grated parmesan cheese
– 1 bottle of extra virgin olive oil 25 oz.
– head of garlic
Preparation:
Combine all ingredients in food processor and refrigerate until ready to use
Pasta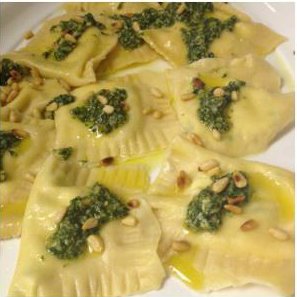 Ingredients:
– 1 bag of pasta flour 4lb. bag
– 1 dozen eggs
– 1 large container of ricotta cheese
– 1 12 oz. container of pecorino romano cheese
– 1 bunch of fresh Italian or flat leaf parsely
–  Salt and fresh ground pepper
Preparation:
Combine flour, eggs and water to make pasta dough (mix by hand).
In a bowl, mix cheeses, parsley, salt and pepper
Roll out pasta dough in sheets
Cut dough into 2″ squares
Place a teaspoon of cheese filling in the center of each
Top with another sheet of dough, press together to make a ravioli
Refrigerate raviolis until ready to cook
Cook raviolis in boiling water
Toss with pesto

Please follow and like us: