August is here which means it's time for the annual Mrs. G TV & Appliances Tent Sale. This is a special two day only event on August 11th and August 12th. The event will take place on Saturday August 11th from 9 am to 5 pm and Sunday August 12th from 11 am to 4 pm. We will be setting up a tent outside and bringing out a selection of appliances that will be sold at unbelievable blowout prices. Check out our 2012 Appliance Tent Sale page to see all the details.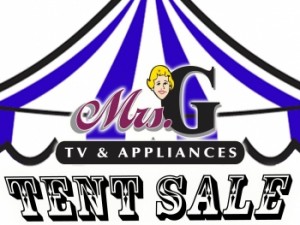 Mrs. G's 2012 Appliance Tent Sale features floor samples, open boxes, scratch n' dents, and more. There will be special deals both in tent and in store. These tent sale specials are priced to go fast, with up to 80% off some items! The appliance sale will include a wide range of appliance categories including refrigerators, ranges, washers, hoods, cooktops, microwaves, TV's and more, available from a variety of different brands like GE, KitchenAid, LG, and more. However, there is only one of each tent sale appliance available at the special tent sale price, so be sure to act fast.
When you shop at Mrs. G TV & Appliances, and when you come to our Tent sale, you are guaranteed to receive the best customer service. We treat our customers like family, so you are sure to get all the help you need from our knowledgeable sales staff, before, during, and after the sale.
Also, during the weekend of the tent sale Mrs. G's will be offering 12 month special financing with a $399 minimum purchase and minimum monthly payments required. See store for full details.
Here is just a small sample of some of the items we have available for the Tent Sale. Keep in mind, these items can be sold any time and there is only one of each available at this price, so be sure to call or stop in to check for availability.
Our Tent Sale will include a selection of ranges at discounted prices. One of our Tent Sale specials is a GE 30" Freestanding Gas Range, JGB281MERBS. Normally priced at $799, this floor sample model is being sold from us for only $596. This is a stainless steel model with a self-clean oven and 5.0 cu. ft. oven capacity and is a great option for anyone in the need of a new range.
In addition to kitchen appliances, we will also be offering laundry appliances like washers and dryers at Tent Sale prices. One such item is an LG 7.3 Cu. Ft. Gas Dryer, DLG2351W. This piece normally sells for $999, but we are selling this floor model with a dent for only $599. This is a white model with a large capacity that will help you do laundry less often.
There are so many great deals and incredibly priced appliances available during our 2012 Appliance Tent Sale. Check out our Tent Sale page for additional details, to sign up for a reminder, and to view some more featured appliances. But remember, this is only a small sample of the heavily discounted appliances we will be offering. Be sure to also come into the store on August 11th or 12th to see all the amazing deals and browse through our full selection of Tent Sale specials.
With all of these blowout deals, you are sure to find a great option that matches your needs at the Mrs. G TV & Appliances 2012 Tent Sale.
Please follow and like us: