There is no better time than now to be a young woman entering the business world. With so many intelligent and confident women offering their expertise and experiences via websites, blogs and organizations–and the Internet making it easy to find these leaders–young women have the tools to move up the career ladder in careers dominated by men, like the consumer electronics (CE) industry.

One of the many women making a difference today is Carol Campbell, publisher of Custom Retailer and founder of the Women in CE organization. You can learn more about this great organization at the blog post I wrote after being honored with a Women in CE Legacy Award. After 18 months of hard work, Carol and her team of volunteers, ambassadors and generous sponsors created the Inaugural Women in CE Career Enhancement Forum 2012 and I was thrilled to attend. The daylong event was held at the Rubin Museum of Art during CEA LineShows in NYC and focused on the WomeninCE.org core mission to educate, empower, mentor and recruit more women into the consumer electronics industry. It was so powerful that I was sorry I did not bring my college twin girls.
The morning started off with a networking meet-and-greet and a pleasant surprise visit by Gary Shapiro, President & CEO of the Consumer Electronics Association. He not only stood out because of his title, but also because he was the only man in the room. I was so happy to hear of his support of efforts to encourage the growth of women in CE. I took the opportunity to introduce myself and open the discussion on Internet sales tax reform. I was curious about his mission to push Internet sales tax reform in Washington with Randy Fry, Chairman of CEA and President of Fry's Electronics, and wanted him to know that I applaud CEA's position to back a national sales tax. I shared his quote in TWICE magazine about his comparison of the failure to pay the Internet sales tax to the "Nannygate" political snafu during the Clinton administration. Gary was pleased that I am trying to make a difference in NJ to level the retail playing field and offered some candid advice: It's a very steep uphill battle!
Shapiro noted in Twice," Can you imagine, after the presidential election, no matter who wins, there will be new appointees before Congress. They will probably be asked, as were appointees 20 years ago, about the 'nanny tax' if they paid Internet sales taxes. If they didn't they would have failed to comply with the law."
Keynote Speaker Cathie Black, former chairwomen and president of Hearst Corporation and NY Times bestselling author of Basic Black: The Essential Guide to Getting Ahead at work (And in Life), was very energizing and wowed the audience. She mentioned that corporations with more women on their board actually outperform those that don't. I found this very interesting so I did a bit more digging. From INPOWER Women, one of the inspiring and educational women centric websites I mentioned in my introduction, I came across an article written by April Sweazy that offers detailed statistics on this research. Other memorable tips included: seek mentors above your career ladder and pay your wisdom forward, be a mentor, don't take business personally (my weakness), be a risk taker, and have passion to make it a business.  I was very lucky to sit next to her at lunch but I still can't believe I didn't get a photo with her! I did get a signed copy of her book as did all the attendees. Thank you, Cathie!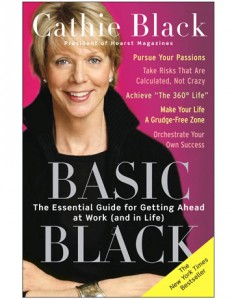 After lunch there were informative panel discussions on rising to the top of your career and effective networking. The featured workshop was led by Sam Horn, Ideapreneur and author of POP!, innovative techniques to make you one of a kind instead of one of many. She says most people are in the infobesity mode while they network – an overabundance of information. To earn smart people's attention, you want to be in the intrigue mode. If you want to intrigue anyone in anything in 60 seconds ask 3 "Did You Know" questions about your business. Then offer answers to the questions started with Imagine followed by: You don't have to imagine it…we have created it.  I also liked her suggestions to not ask a fellow networker, "What do you do?" Instead say, "Please give me an example of what you do." Another networking tip: instead of giving a prepared elevator speech, have an Elevator Conversation. I like that!
Closing Keynote speaker Barbara B. Roberts, Director of Programs for the Lang Entrepreneurship Center of the Columbia Business School, Women Presidents Organization and Tiger21, shared statistics and her strategies that women in CE industry can use to get ahead. In 1970, one in eleven women did not have children. Today the statistic is one in five. Wow! Yes, it is hard to balance working and having kids but I wouldn't change a minute of my life. I am crazy about my girls! She also recommends having a business plan that includes 3 goals for each day, 3 goals for the week, 3 goals for the month and 3 goals for the year. And she ended her speech with a quote from Madeline Albright: " There is a special place in hell for women who don't help other women." Hear hear!
This was my day! I met new people and introduced myself to Gary Shapiro, Cathie Black, other speakers, panelists, moderators and as many fellow Forum attendees as possible. I had a chance to see my good friends Elly Valas and Jeanette Howe from Nationwide Marketing Group.  Looking forward to the next Women in CE event! Thank you, Carol Campbell for being an outstanding mentor!
Please follow and like us: