If you missed our 2011 Black Friday "The Big One" Sales Event, we have a surprise for you! As a way to say thank you for your continued support and business, we are having a special sales event through the entire month of December for all your last minute shopping needs.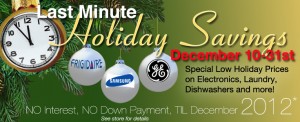 Stop in for the same low prices we offered during Black Friday. Get the same doorbuster deals on LCD TVs, washer & dryers, dishwashers and 3 piece kitchen sets. We also have layaway to make your wish list easier to complete. This is our gift to you; take advantage of the deals while supplies last. Go to our Holiday Page to see our 2011 Last Minute Holiday Savings Circular.
Here are a few of my Holiday Gift Picks:
The Miele Cat & Dog Upright Vacuum S7260 was selected as one of my favorite gifts in 2010 for its chic yet practical design. We all love our dogs and cats but boy can they shed.  This Miele Vacuum was given the Good Housekeeping Seal of Approval as well as the top ranking for a well known consumer magazine. We all know who I'm taking about. MAP price is $649.00.
The Frigidaire Wine Refrigerator FFWC38F6LS is our number one selling wine refrigerator and is a holiday steal at $399! With room for 38 bottles and two temperature zones, you can start a collection of your favorite reds and whites all in one place.
Have a healthy, safe and a very happy holiday season. Thank you for an amazing year!
Debbie
Please follow and like us: