At Mrs. G's last sales meeting, I asked my team to make suggestions for future blog post since they are in the appliance and TV trenches every day. Ross Dimaria, a fantastic sales professional highly regarded by all his customers, quickly directed me to a new arrival among the sea of ranges on Mrs. G's showroom floor. I loved his enthusiasm and rewarded him with a sincere pat on the back and a photo opportunity. Meet Ross and the Samsung Freestanding Electric Range with Flex Dual Oven FE710DRS.
What is a Flex Dual Oven? Samsung's Flex Duo Oven gives you both a traditional single cavity range and a double oven in one. This unique design let's you easily switch from a large single cavity (5.9 cu. ft.) to two smaller cavities (2.7 cu.ft. and 3.0 cu. ft.), with independently controlled temperatures. You'll have the flexibility to cook both large meals, like holiday dinners, and smaller everyday meals in one oven. Also, dishes stay free from mixing of odors so dinner and dessert will never taste the same. If you are interested in seeing a well produced video by Samsung on the Flex Duo Oven go to https://www.youtube.com/watch?v=2Ar4BkaGiDY. We found this video via the QR Code on the floor model stove.
The Flex Duo Oven has twin convection fans inside the oven which can result in more even cooking and reduce cooking time whether you are cooking in one oven or two. The cooktop has five radiant electric cooktop elements: One Triple Burner, one Dual Burner, two Single Burners and a Warming Center.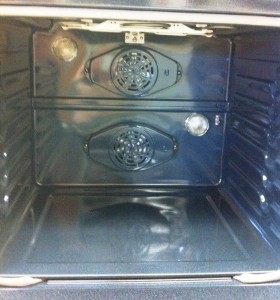 There is also a warming drawer that will keep the dishes and prepared food warm while you wait for guests to arrive. The smart divider can also be conveniently stored above the warming drawer.
Even though this is a self cleaning oven the range has a Steam Quick(TM) feature as an added cleaning bonus.  After a spill or spatter just pour a cup of water inside, close the door, press Steam Clean, and in about 20 minutes simply wipe the spill away.
Just when you thought the 30″ freestanding range oven couldn't get any bigger Samsung found a way. Currently there is a $100 exclusive mail-in rebate that expires July 31, 2011. The MSRP is $1599 but when you visit Mrs. G's, call or email we will offer you a lower price.
Hope you are enjoying summer time!!! Stay cool!
Debbie
Please follow and like us: