Armoire:  A large movable cupboard, with doors and shelves from the French word "arma" meaning gear, tools, arms originally used for storing weapons
Did you ever think you would be talking about a refrigerator when someone comments "What a beautiful Armoire." Below is a list of the 21st Century Armoires.
I'm going to start with the most luxurious armoire refrigerator/freezer. Pictured below is an armoire that is 4 years old but you would think it was built in the 19th century. This piece was created for D'Alessio Construction by Robert Schultz from DRAPER◊DBS, a custom cabinetry and furniture manufacturer, nationally known for their unique custom cabinet design, fine hand-craftsmanship, and extraordinary finishes. Inside, you would expect a group of sweaters or maybe a flat screen TV but low and behold, there lies 2 side by side Sub-Zero 700TCI Integrated Refrigerator/Freezer. This is total luxury when it comes to kitchen cabinet design and not in everyone's budget.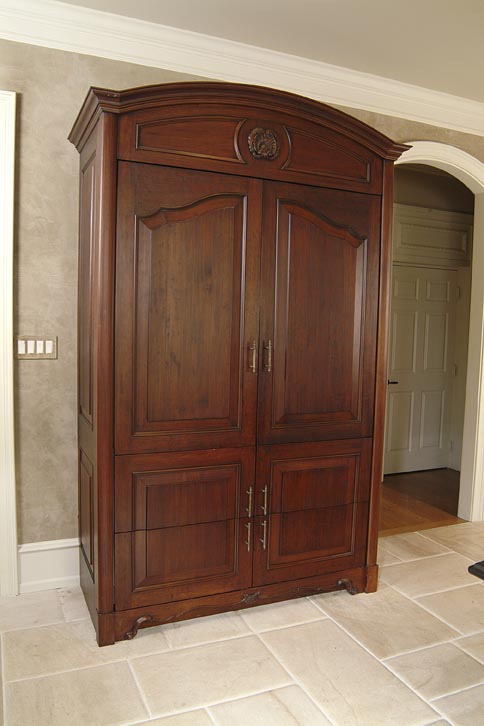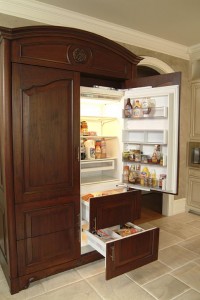 Manufacturers noticed the excitement with this style of refrigerator and have created the more affordable French door refrigerator. Why French… think armoire, currently the most popular refrigerator at Mrs. G's. French door refrigerators have been going strong for a few years. Just recently a new type of French door refrigerator has emerged… the new 4 door! Why 4 door? There are two doors and 2 drawers. As of this blog, 4 door FREE STANDING refrigerators only come 36" wide and I am not aware of any that come as an integrated four door paneled unit. Most brands have stainless with a few offering black and white.  I call it the 4 Door War because there are so many brands offering this type of refrigerator competing for the same customer, who wants the latest and the greatest. Here are the warriors below with a few highlights. Let me know if I missed any! I highlighted the units in red that are counter depth.
Leiberr has probably been in the 4 door game before anyone else. Their refrigerators are German engineered and very energy efficient. It's perfectly priced between the classic built-in and the high-end free standing refrigerator. This is a fabulous super high efficiency refrigerator with great lighting. It's actually a free-standing counter depth refrigerator, CS2062,  with stainless sides and 80" tall but looks fabulous standing alone or built-in when placed in a cabinet. Both drawers are freezers.
I'm love'n the GE Monogram prohandle counter depth freestanding refrigerator, ZFGP21HZSS,  because it goes with its own pro range but compliments other pro ranges as well. Both drawers are freezers. Also comes with a towel bar handle a few hundred dollars less.
GE Profile has a few models both standard depth and counter depth and with or without water dispenser through the door. Here I show the
counter depth
model  
PGCS1PJZSS
with 2 freezer drawers .
Samsung Refrigerators were rated highest in customer satisfaction 6 years in a row by J. D. Power and Associates. The RF4287HARS is a standard depth 4 door refrigerator with ice and water dispenser through the door. The top drawer is independently cooled refrigerator with four different temperatures. Convenient counter height drawer so kids can grab their snacks. Samsung currently only has a standard depth model available.
The Maytag Ice2O Access Refrigerator MFX2571XEW is standard depth at 25 cf with ice and water dispenser. The top drawer is an easy access refrigerator with the bottom drawer as a freezer. Maytag currently only has a standard depth model available.
LG has quite a few 4 door refrigerator models both counter depth and standard depth with ice and water through the door or not and 2 freezer drawers. I'm showing the LG Studio Line counter depth LSMX214ST .
Happy Valentine's Day,
Debbie
Please follow and like us: