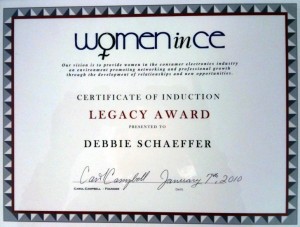 In early December I received a call from Carol Campbell, founder of Women in CE (Consumer Electronics). She called to let me know that I have been chosen to be one of the first recipients of the Women in CE Legacy Award celebrating women of achievement in consumer electronics. WOW! WHAT AN HONOR!  I have been working so hard these past few years and yes, from time to time I feel very few appreciate my efforts. Now I finally got a wonderful pat on the back from amazing women in my industry and it could not have come at a better time.
The event was held at the very trendy Tabu Ultra Lounge at the MGM Grand Hotel during the International Consumer Electronics Show in Las Vegas. These amazing women were also honored:
Laynie Newsome, VP of Sales & Marketing of Vizio
Pam Crane, Executive VP of Ken Crane's Home Entertainment
Karen Chupka, Senior VP of CEA
Rachelle Friedman, President & Co-CEO of J&R Music & Computer World
Irene Baran, CEO of Speck Products
Krista Bergman, Director of Strategic Accounts of Sonance

Every one of these fabulous businesswomen are movers and shakers in my industry and I was so glad to share the honor with them!  Denise Morales, VP of Global Sales of Monster Cable™, served as master of ceremonies. Monster® producers of electronic accessories for those who expect the best and creator of the most innovative headphones, Beats by Dr. Dre, the brand of choice for music celebrities like Lady Gaga and The Black Eye Peas. Yes, Mrs. G's carries a fine selection of Monster Cables including the popular Beats® head phones. Co-host of the event included Courtney Manlove of Schvee.com, Vann's and Custom Retailer's Carol Campbell.   I must tell you a little about Carol Campbell and all that she accomplished to bring women in consumer electronics together. Carol has been a driving force in the consumer electronics industry for nearly 20 years and publishes CustomRetailer and CEDIA's Electronic Lifestyles®.
The Women in CE mission Statement:
Our vision is to provide women in the consumer electronics industry an environment for promoting, networking, and professional growth through the development of relationships and new opportunities.
ISN'T THAT FANTASTIC! Carol is passionate about consumer electronics and strongly encourages women to enter the consumer electronics field that has historically been dominated by men. Today, women purchase 57% of  consumer electronic and influence 90% of all CE purchases. We need more women in this industry. Now is a perfect time to seize the opportunity with the help of Women in CE, providing a forum for women in the consumer electronics industry to network, share, learn, grow and have fun. A mentoring program has been created to enhance professional and personal development among women in the consumer electronics industry by connecting them with others who can provide advice on a variety of work related issues, including career planning, job skill enhancement, and industry involvement.
Amazingly, Carol also spearheaded the Elf Foundation, a charitable organization  that builds "Room of Magic" theaters in Children's Hospitals through donations from industry partners. To date, The Elf Foundation has opened over 40 theaters across the country.  What a great role model.  Check out Women in CE online for more information. If you are interested in the field of Consumer Electronics or already in the business, take advantage of this fabulous organization.  Reach out to your friends and colleagues, men and women, to become members. This organization is there to help you and support you.
Thank you again everyone from Women in CE!